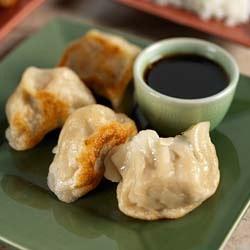 Last December, Hoxton's hippest hipsters donned their most asymmetric hairstyles and wriggled as fast as their skinny jeans would allow down to The White Horse, with the sole purpose of nibbling potstickers at London's first 'Japanese Gyoza pop-up', Gyoza Otaku, rendering the event a complete sell-out.
So this month, The White Horse will once again play host to all manner of far-Eastern mayhem, featuring sake cocktails and, of course, those eponymous dumplings by the bucketload. No doubt it'll all occur to a signature soundtrack of 'soulful vibes'. See you down there… if the jeans still fit.
Gyoza Otaku is at The White Horse, 153 Hoxton Street, N1 6PJ, Sunday 19th February from 1- 6p.m.
For more details visit www.facebook.com/events or follow @GyozaOtaku on Twitter.