Tell your Valentine they're hot stuff with this indulgent spiced-up chocolate cake. With a judicious slug of Tabasco®, it's a little out of the ordinary and more than a little more-ish. Both dairy- and egg-free, it's a simple, surefire hit.
Serves 8-10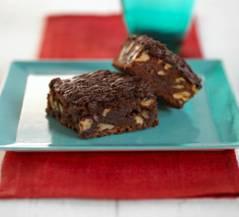 Ingredients
250g plain flour
350g Demerara sugar
65g plain cocoa powder
1 tsp baking powder
1 tsp salt
250ml water
10g Tabasco® Pepper Sauce
240ml extra virgin olive oil
1 tsp vanilla extract
100g roughly chopped dark chocolate

Method
Preheat the oven to 180 C/ Gas mark 4. Lightly grease an 8", loose-bottomed cake tin.
In a large bowl, stir together the flour, sugar, cocoa powder, baking powder and salt. Pour in water, Tabasco®, olive oil, vanilla and dark chocolate; mix until combined.
Turn the batter into the tin and bake for 45 minutes until the top is no longer shiny. Allow to cool for at least 10 minutes before dusting with cocoa powder.
Enjoy warm, when the middle is still gooey!
Find more from Will at www.willtorrent.com