Staying on top of food trends is what makes us foodies. We rush to new restaurants wanting to be among the first to offer an opinion. We buy the latest cookery books, watch the newest shows, follow multiple foodie websites and muck around in our kitchens in a continuous attempt to keep up.
Among those who influence trends is the international spice brand Schwartz which recently published its flavour forecast for 2012. With recipes developed by Maria Elia, the talented chef behind the menu at Joe's (part of the Joseph fashion label), and Schwartz chef Steve Love, Schwartz predicts six trends and flavour combinations that will drag us away from the ordinary and prosaic into contemporary culinary chic: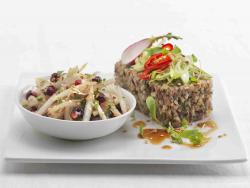 Honouring roots: A fresh perspective on the origins of a cuisine, retaining a balance between modern tastes and cultural authenticity. It has long been a tradition to eat raw steak; shaped into a circular patty with raw onion, capers, a dash of Worcestershire Sauce and perhaps an egg yolk it is an unctuous delight, rich but light, fresh with a hint of zingy spice. Maria Elia's interpretation is to serve raw lamb in a rectangular block, with an Asian pear salad. The nine spices and herbs mixed into the lamb created a far more exciting mouthful than its beef counterpart; balanced with a fresh, sharply sweet salad, it was a hugely successful modern interpretation of a classic.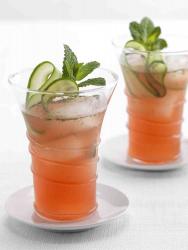 Quest for the ultimate: Yes, with the word ultimate in its title, this involves alcohol – in unusual combinations that create bursts of contrasting flavours that work in harmony. A light watermelon cooler cocktail would be perfect on a summer day; the lemon blanc cocktail was tart and sweet, with the clever addition of lemon thyme, challenging the supremacy of cocktails that include lime.
Veggies in vogue: Food for vegetarians is on a continuous self-improvement course and rightly so. Honey and harissa aubergines were sticky and spicy-sweet, blending garlic, ginger, cinnamon, caraway seeds, cumin and coriander with harissa, honey and lemon juice. Served with an avocado and cucumber salad, and the crunch of kataifi (a Greek pastry), it was cleverly multi-dimensional and satisfying.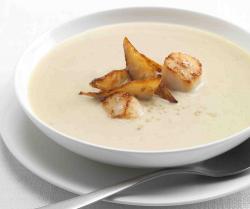 Simplicity shines: Schwartz's contention is that the most memorable food is often the simplest – not as in elevating boiled eggs and soldiers to new heights, but marrying flavours simply and without pretension. Vanilla with butter, for example, or ginger with coconut – unsurprising partners which, used creatively, add a surprising dimension to other flavours. The Jerusalem artichoke and vanilla soup was a real winner – in a show of hands at the tasting evening, this received the most praise.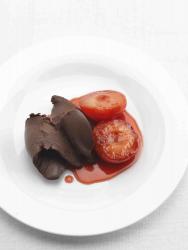 Flavourful swaps: These focus on health without sacrificing enjoyment and, as most nutritionists and dieticians stress, it's about adding herbs and spices, not fat, salt or sugar, to enhance flavour and taste. Cuban grilled chicken with salsa fresca was as refreshing as an ice cold drink on a hot summer's day, grapefruit and radishes adding a light touch against the earthiness of coriander and the heat of jalapeno pepper. On a sweeter note, Schwarz suggests combining naturally caffeine-free rooibos tea with cinnamon and plum to create a fruity, spicy better-for-you drink. The dish we were presented with bent the health rules – a wonderful must-make show-stopper of a pudding with chocolate and sugar no health nut would sanction. But it was light and fresh and, if you buy the chocolate and sugar wisely, it can be ethically sourced.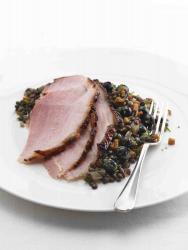 No boundaries: This existing trend will continue, with chefs reinventing food, often playfully and ignoring established rules. Ham glazed with blueberry and cardamom, and served with cardamom and blueberry lentils, was the second most praised dish of the night. It takes Nigella's ham cooked in Coke a stage further – replacing the Coke with detox-worthy blueberries.
Forecasts about food trends are almost always about generating sales for whichever products its sponsor makes. Regardless, most of these ideas and combinations were hugely successful – and worth trying. See our recipes for what we considered were the best of Schwartz's Flavour Forecast recipes, all of which are easier to make than they sound:
Schwartz flavour forecast cocktails:
Watermelon cooler cocktail

Lemon blanc cocktail
Schwartz flavour forecast recipes:
Jerusalem artichoke and vanilla soup with seared scallops

Raw lamb kibbeh with Asian pear salad

Blueberry and cardamom glazed ham with cardamom and blueberry braised lentils

Red tea chocolate ganache with cinnamon plum compote