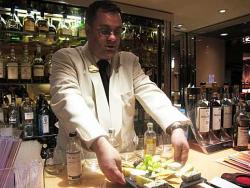 You'd think that a whisky sommelier would be Scottish, maybe wearing a kilt and waving a tin of McEwans around in a vaguely threatening manner? Well I would but then I'm quick to stereotype.
Even so, to find our expert whisky wise guy for the evening was Italian was something of a surprise. 'I was allowed to sniff my father's whisky when I was about nine,' explains Angelo Gobbi one of only two whisky sommeliers in London. 'Of course I was not allowed to taste it. After that I was always allowed to sniff the whiskies the men drank and they told my father then that it was obvious I would not be following him into the wine trade!'
Instead Angelo is in charge of the Whisky Bar at The Athenaeum in Park Lane, an hotel that has had a special whisky bar for as long as anyone can remember. At over 270 bottles, the range of whiskies is immense with some very expensive treasures kept under Angelo's watchful eye, as well as lock and key. He is a real enthusiast for a dram. 'Whisky is for savouring slowly,' says Angelo wincing at the thought of people who come in, order a fine whisky, and then knock it back it like a sweaty cowboy fresh off the trail. 'As you sip the flavours open up, a small drop of water helps, and it can last you an hour. Good company and good whisky is something to really enjoy gently.'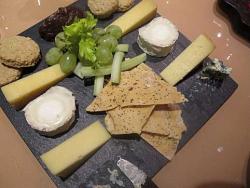 And, as Angelo is about to demonstrate, whisky is something to enjoy with cheese. 'I am often asked by our dinner guests to recommend something to have with their cheese,' he explains lining up bottles of single malt in front of us. 'They have finished their wine, no point in ordering another bottle, and things like port are so boring really. They are often surprised when I recommend a whisky that I will pair with the cheese, but they always enjoy it a lot and linger over their cheese for longer and end their meal with unexpected extra pleasure.'
To capitalise on Angelo's deep knowledge and the skills of Athenaeum's Head Chef David Marshall, they have together created, with the help of Alex James, the bassist turned cheese-producer, a whisky and cheese tasting experience. Pulling up our stools to Angelo's bar, we prepared to see what it's all about.
Angelo runs through a brief history of whisky, revealing some surprising facts along the way, for example that India is the largest consumer of whisky in the world, albeit a home made variety. He has placed his five whiskies for our five UK cheeses in the special sample bottles that the individual distilleries send out, each hand labelled by the Master Blenders who approve them with date and type.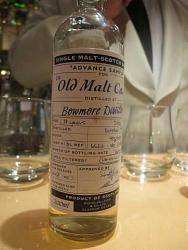 First we have to try Alex James's Blue Monday, named after the New Order song. Presumably calling it Regret would have been a bad marketing ploy (it's still New Order's best song though, thanks to Hooky's sinuous bass line).
Angelo shows us how to appreciate whisky. 'Treat it as a new acquaintance,' he counsels, 'say hello.' He wafts the glass under his nose 'the alcohol is strong of course, if you sniffed whisky as you sniff wine the alcohol vapour would burn and spoil your senses. Gently get to know the flavours.' The Aberlour melds in the mouth with the Blue Monday taking on new and interesting character, as does the cheese. Having never drunk cheese with whisky before, I am surprised and impressed at what's going on.
And so we roll on with a glass of Mortlach paired with Tornegus, a Caerphilly kind of cheese and a recent invention. The Mortlach is a darker whisky, aged in sherry casks and with a fruitcake flavour that softens the cheese's slightly sour edge. Golden Cross, a creamy goats cheese is paired with the Jura, a honey tasting single malt which goes well with the goaty tang and finally we have a classic piece of Westcombe cheddar paired with Bowmore, a magnificent Islay that's well aged and has a peaty twist.
They've all been doubles so getting off our stools is a little bit easier than getting on them, we just fall off basically. It's been a very different kind of evening; an education as well as a convivial conversation, lubricated by fine whisky and enlivened by the cheese.
You can find the full cheese whisky pairing menu here
The Athenaeum 116 Piccadilly Mayfair London W1J 7BJ