Grim's Dyke Hotel and Restaurant, Old Redding, Harrow Weald, Middlesex, HA3 6SH www.grimsdyke.com
Named after an ancient earthwork defence that runs for a little over three miles and formed part of the territorial boundary of the Catuvellauni, a tribe that back in Roman Britain was in conflict with the invaders, The Grim's Dyke hotel sits in 40 acres of land, part of which has this ancient defence running through it. The house, which forms the main part of the hotel, was built between 1870 and 1872, to designs by architect Richard Norman Shaw, for the artist Frederick Goodall. From 1890 the house was home to Sir W. S. Gilbert who, with Sir Arthur Sullivan, co-wrote the fourteen Gilbert and Sullivan comic operas. Gilbert lived there until his death in 1911. The house is Grade II listed and has enormous character both internally and externally.
We stayed at the Grim's Dyke hotel for a short break recently, eating dinner at the restaurant – Gilbert's – which has two AA Rosettes, as well as taking afternoon tea in the hotel's drawing room while we were there. As you arrive at the hotel its gothic styled exterior is very impressive, you can't help but be struck by its intricacy and the rooms within are equally bursting with individual character. Our room, The Goodall, has lovely views across the gardens but it was dark when we got there though so we didn't appreciate the view until the following morning.
Before dinner we had a drink in the hotel's bar, a lovely room it's clear that great care has been taken to preserve and not to hide or detract from its original features, as is the case with all the rooms we saw. We each chose wines by the glass for our pre-dinner drinks these reasonably priced at around the £5 mark.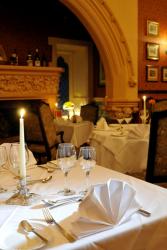 Unlike many hotel restaurants, Gilbert's is not within the main body of the hotel, but a Victorian extension to the main house originally built as W. S. Gilbert's billiards room. It's a substantial room with well spaced tables and some grandeur.
The food at the restaurant was very good, as you might expect from its two rosette rating. The calamari, served on an Asian salad accompanied by a lime mayonnaise looked very attractive on the plate, the tempura cooked squid was tender but left with some bite and the salad it sat upon had a good tangy spiciness to it. The Spanish croquettes had a lovely crisp shell encasing their fluffy potato and ham filling and were nicely accompanied by some cooked apple and black pudding; both were very good starters. The duck breast, with cherries in a vanilla sauce, was served medium, cooked a little more than I would have preferred, having asked for it medium rare, but the meat was tender and had good flavour, it came with a decent sized tranche of Lyonnais potato that was just a little al dente, which I liked. The peppered sirloin was cooked perfectly, medium rare as ordered, tender and full flavoured accompanied by a medley of vegetables it was a lovely plate of food. Desserts of tiramisu soufflé served with mascarpone and lemon tart were each delightful creations, the lemon tart had a great level of sharpness in the zingy lemon filling, the soufflé was delicately coffee flavoured and had a lovely soft consistency throughout; it was accompanied well by a scoop of mascarpone.
We had wines by the glass with our meal going along with the sommelier's choice and they worked well with the dishes. The front of house team were very helpful and attentive throughout the meal. Gilbert's currently have a prix fixe deal for weekday dinner, £12.95 for two courses and £16.95 for three, Monday to Thursday, rising to £16.95 for two courses and £22 for three on a Friday, which we thought was really good value.
After a comfortable night in our room, we took ourselves back down to Gilbert's for breakfast. There was a buffet element to it, with cereals, croissant and fruits on offer, as well as cooked options. We both went for the full English, adding black pudding, and apart from a croissant left it at that. The full English, among the usual suspect had some very good bacon and sausage and it was a great way to kick-start the day.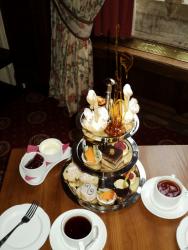 After a few hours exploring the grounds and the local area we were ready for that afternoon tea, so into the drawing room we went and service began. Our choices of teas were taken – Earl Grey and Darjeeling – and these arrived soon after together with a three tiered server loaded with assorted sandwiches. Ham and tomato, prawn cocktail and egg mayonnaise, were each liberally piled on 3" open lengths of light crisp French stick, smoked salmon and cream cheese bagels and cream cheese and cucumber on brown bread also formed part of this savoury element of the tea and all were very tasty. These were followed by the star of the show, a similar server chock full of cakes and pastries. Choux pastry swans filled with cream, iced choux buns filled with confectioners' custard, tropical fruit tarts, strawberry millefeuille, chocolate cups filled with banana mousse, opera gateaux, and lemon tarts, as well as fruit and plain scones. Some good jam and clotted cream were also brought to the table for the scones. They all looked incredibly attractive and were presented perfectly, they also tasted extremely good. We were told that all breads and pastries at Grim's Dyke are made by their pastry chef on the premises, the quality was excellent. This was a gargantuan tea, but we were determined to try everything and we weren't disappionted by any of it. At £13.95 per head it's amazing value.
Afternoon tea finished and our exploring complete, it was time to make our way home, rather full but having enjoyed a very pleasant stay at Grim's Dyke.
The Grim's Dyke hotel has a lot to offer potential guests. The music room, originally built as an artist's studio for Frederick Goodall is a stunning room and really should be seen, it's used for the Gilbert and Sullivan music and dinner evenings which are a regular feature at the hotel, as well as for weddings and parties. The other reception rooms are equally full of features that guests should see. The gardens and grounds are very attractive – even in February when we were there – and there are some great views across open green space from the grounds' perimeter.
The Grim's Dyke Hotel is a peaceful haven away from the bustle of London life, yet hardly any distance from Stanmore station, in zone 5 on the underground, with easy access to central London, if you need it.
You won't have to be an artist, music lover or someone struck by interesting architecture to enjoy a visit to or stay at Grim's Dyke, you will be charmed by what it is, a great, quaint, well preserved Victorian house that has some very interesting history to it. It's an excellent place to visit whether you live in London or not. I would absolutely recommend going there for a short break. At the very least I would suggest you go there and enjoy a meal in the restaurant, or afternoon tea. But if you book to go there, arrive well before the appointed time so you can have a walk in the grounds and have a drink in the hotel bar, giving you the opportunity to see some of the beautifully restored architecture, both inside and out as well as the gardens and grounds. It's a unique place and will charm you.