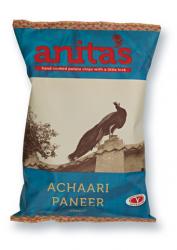 Burts, famed for their super crisp hand-fried chips, have launched a new range called anita's.
The concept came from the brand developer Dylan Patel, who in turn took inspiration from his aunt Anita's traditional family recipes for the flavours and his mum's saris for the packaging.
There are four different flavours in the new range: Achaari Paneer; Mango & Lime Chutney; Dill, Mint & Onion Raitha; and Chicken Tikka.
Anita's is available in TescoBurts, famed for their super crisp hand-fried chips, have launched a new range called anita's. stores nationwide and costs £159 for 150g or 69p for 40g. For more information, visit www.burtschips.com