Gwesty Cymru, Marine Terrace, Aberystwyth www.gwestycymru.com

Croeso i Aberystwyth. Why many people are reluctant to visit this town eludes me. Perhaps outdoor activities aren't interesting anymore or maybe television has finally killed socialising. If you happen to be one of the dying breed that isn't materialistic then I definitely recommend spending at least one weekend here a year. Any opportunity to return to the town and I'm off like a G6.
No longer being a resident means keeping up to date with Aberystwyth restaurants is harder than listening to a Cheryl Cole album with a straight face. People simply outgrow the town and fly the nest. Needing guidance, I opted to take recommendations from my chef mate, Marcy D. We'd been on the same course and Marc had progressed to cooking in some of the finer local establishments. He told me I should check out Gwesty Cymru, noting that it was his favourite spot in Aberystwyth.
I'd witnessed the gradual emergence of Gwesty Cymru over recent visits. Once a Grade II listed residence on the sea front, the building is now a spectacular luxury bed and breakfast with a restaurant that exhibits exceptional local produce and fine craftsmanship; magnificently finished throughout with rooms that match the grandeur of the basement restaurant.
I like the style in the restaurant. A combination of grey brick, black slate, bright wood and shiny chrome works well, all locally sourced and fitted by local tradesmen. The lighting is softly dimmed with a hint of purple. Tables are set precisely and even the radiator doesn't escape a bit of artistic flair. It's cosy, classy and a comfortable environment.
I begin with Brynderw Farm chicken liver & Welsh mead pate served with whole meal toast and homemade chutney. The rich pate is thick, creamy and 'offaly' good (wahey!), melting in the mouth, soothing the sharp and tangy bite of the sour chutney that hints of pickling vinegar. Proper slabs of bread accompany the dish, still warm and soft. Getting the taste combination right when creating a pate and accompanying chutney is vital in the success of the starter. On this occasion, it was bang on. Great starter.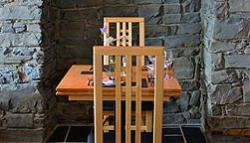 Main course arrives in the form of prime fillet of local beef topped with Gorwydd Caerphilly cheese and red onion jam, served on a bed of rosemary roast new potatoes, sugar snap peas and red wine sauce. The meat is cooked to my liking, slightly pink but a little smothered by the strong cheese. I'm not pro steak and cheese but the blend of flavors here works, perhaps the quantities might need to be addressed. The first few chews are fine but then the cheese overpowers the steak. The red onion jam adds another good flavor formula forkful, but I prefer the non-cheese covered salty crunch of the seared meat edges with the crispy sugar snaps and soft fluffy potatoes, then washing it down with a cold, light Cambrian Mountains Ale.
Dessert was a near perfect Baileys crème brûlée. The sugary surface was thick and cracked beautifully, had no burnt taste but towards the end was a smidge runny. Arguably an extra few seconds cooking could have produced a better outcome, but the dessert certainly wasn't spoiled and the additions of a mouth watering blood red baked plum and a homemade chocolate biscuit were more than welcome additions.
I feel like I'm slightly on holiday throughout the meal. It's such a relaxed atmosphere, with other tables speaking the native tongue that I cannot understand and one large table occasionally breaking into song followed by laughs and clinking of glasses. It's a magical little basement restaurant that proudly displays the impressive palate of the chef and the array of local high quality produce, arguably main reasons why Gwesty Cymru continues to receive many awards and finds itself nominated again this year in the True Taste of Wales Awards.