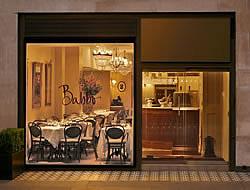 This Friday the eyes of the fashion world turned their attention on London as the annual week of fashion shows got under way. Marking the occasion, some of capital's most stylish restaurants are offering exclusive diet-friendly additions to their menus.
Highlights include, J Sheekey Oyster Bar's low-calorie snack of six half-dozen oysters and glass of Pol Roger Pure Champagne, which contains no added sugar. Located only a few minutes walk from Somerset House, the main venue for this year's event, guests will be able to survey the glamorous crowd whilst eating, making it the perfect pit-stop between shows. 

Priced at £15.75 the offer runs from 14 and 27 February, but if you are looking for something a bit more substantial, the standard menu focuses on fish and seafood, some vegetarian options and of course their signature oysters.
Another restaurant getting in on the act is Babbo, going a step further, head-chef Douglas Santi has created an entire menu ideally suited for die-hard fashion followers. Shunning the traditional Italian dishes, which are full of rich and heavy ingredients, Douglas has designed the menu to be light, healthy and balanced without losing the authentic taste of regional Italy. In between the shows fashionistas can enjoy dishes such as slow-cooked chicken breast with vegetables, spaghetti or grilled sea bass with vegetable caponata.
London Fashion Week runs from 18 – 23 February.