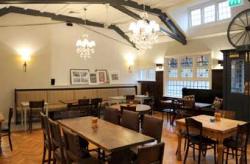 There's a bit in The Trip, Steve Coogan's recent return to form, after doing rubbish movies for money, wringing the last comedy drops out of Alan Partridge and writing curiously self-important articles for the papers, where he and Rob Brydon have a Caine-off in a restaurant.
Their impressions of Michael Caine are impressive, but not as good as the one being done by the bloke sitting behind me in The Fox & Grapes , the new pub restaurant set up by Claude Bosi of Hibiscus fame. I turn around to have a butcher's and cor blimey guvn'r, it IS Michael Caine, sitting large as life amongst the motley punters and tucking into what looks like the Chicken Kiev. Ah well he's a South London boy and no stranger to 70s dining.
Mind you, this is the expensive corner of an already very expensive part of South London. As chichi Wimbledon Village peters out into the wombling wilds of the common, the houses get grander and grander. Nothing oligarchic, just splendid architecture and gardens you could host the Olympics in. Everyone in the Fox & Grapes exudes wealth and happiness and maybe Michael has a house around here too.
The ancient old pub has been given a clear out and a makeover for its new role and I am not entirely in love with it. The panelled walls have been painted the grey-green beloved of Daylesford Organic and which can be seen in hundreds of media peoples' second homes in the country. There's still a slight niff of freshly sawn MDF in the air and, apart from the windows, the place gives every impression of having been gutted of all its nice original bits. It's all been done in the best possible taste though and people are still using it as a pub and standing at the bar, which is good.
Claude Bosi is of course a top chef. The elegant Hibiscus in Mayfair was recently nominated as one of the world's 50 best restaurants and is a must-eat place for anyone who prefers flavour over fashion. It's in Mayfair though, so it's a bit stuffy and prices are as high as you'd expect. Here in Wimbledon Bosi has teamed up with his brother, Cedric, and his former sous chef at Hibiscus, Patrick Leano to create a more affordable place.
Staff are pleasingly pubby, not Micheliny and a little ragged, we were never offered any bread, but then it is the first week. The menu reads simply but is full of things you want to eat such as the Herefordshire snail lasagne. When it arrives I can tell from the aroma it's going to be good and by golly it is.
The pasta is silky and light, the snails generous and the mushroom, garlic and parsley sauce simply divine. This is cooking by instinct and experience, not slide rule, and what you expect from a Head Chef who learnt his trade in Lyon, France's capital of cooking. The crumbled crunchy bacon on top doesn't quite do it for me texturally though, it's like finding sand in your sandwich, but all else is perfect.
P has a pork pie that is a magnificent slice of Old England. While Heston is exhuming old recipes, Bosi's team are refining them. The pastry is friable, thin, and has the second moist layer that I love. The pork is dense and full of flavour and the gin-clear jelly clearly home made and packed into every spare air gap. Even the piccalilli is perfect; crunchy and with just the right amount of vinegar snap. We share each other's starters and know this is jackpot dining.
If the Chicken Kiev is good enough for Batman's butler then P feels she has to try it too. If all you know of this much-maligned dish from the era of flares is mechanically recovered meat shaped into a ball, injected with watery garlic sauce and then frozen down, then this one will surprise you. A curious torpedo shape it is however top Label Anglais chicken breast and the garlicky filling is a thrilling blast of fumes and flavour. The bread coating is golden and crisp and slips off the breast in a seductive way to be picked up with a forkful of creamed leeks. If only the 1970s themselves had been this good we might never have disowned the decade of Slade.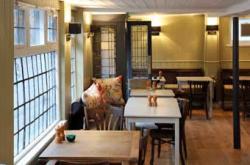 My pork belly comes on a bed of Puy lentils, the lentils with a Baccalauréat, and has perfect crackling – not teeth destroying, not squidgy, but just right – a crisp bite that releases a tiny angel's teardrop of fat. The meat is properly slow cooked and tender and, for once, does not catch in the teeth like a porcine Bounty Bar. The match between lentils and meat is perfect texturally, but even so we ordered some chips, mash and kale.
The chips have it all, crisp and fluffy simultaneously, the mash is creamy and the kale, that Rambo of winter vegetables that can emerge from two feet of snow and still want a fight, is just what you need to fight off scurvy in the suburbs.
A shame that desserts seem to come from a different kitchen. Orange & Saffron Trifle is all cream and no trifle and served in the same glass as the water is served in. It seems a dish made in an emergency and not with inspiration. Vanilla & Pear Junket with Cinnamon Shortbread is okay, but again seems very ordinary compared to starters and mains. A bit of a flat end to what was otherwise a meal that restored my faith in cooking by gut and not by numbers.
The prices are low – low for this quality of cooking and low for this part of town. That doesn't make them cheap but they are more than fair. For the price of a pile of sloppy meat in a bun on the other side of South London you can eat a dish that has actually had a lot of thought and skill put into it.
We leave as Michael is looking at his menu, I want to warn him about the desserts but remember his message in Get Carter. 'You're a big man but you're in bad shape, with me (violence) is a full-time job!' and decide to slope off quietly. Outside it's a clear sky and I've seen at least one star but I reckon there will be more to follow.
We interview Claude Bosi about his new venture