Sipping on my ridiculously thick Caffe Vergnano hot chocolate, possibly the best hot chocolate I've ever tasted, I braved the ice-cold wind to explore the Southbank Chocolate Festival.
They said to show up early, for some quiet time with the vendors. Great theory, but half the stalls were still setting up. When I wandered up for a chat and a photo, most of the stall holders looked at me like I was Slugworth and they were Charlie Bucket.
With the kindly help of the PR, I was introduced around and finally started to make some progress. First off the bat was Bill McCarrick from Sir Hans Sloane. This Philadelphian ex-pat and ex-pastry chef was the first person to conch his own blend in the UK.
Turns out conching is not the ceremonial blowing of a conch when the chocolate's ready, it's actually the production of chocolate from the raw cocoa bean into the bars we know as chocolate.
Experimenting with various ingredients over the years, brown sugar appears in his latest prize winning product milk chocolate beads. He also created hay chocolate for Coworth Park exclusively for the Dorchester collection. Mixed with actual hay, this chocolate apparently has a very floral flavour.
Moving on to the Valrhona stand, I discovered the descriptions on the packets were the flavour of the chocolate used. Depending on where it's from, some chocolate tastes floral, some fruity and some tannic. Valrhona use single origin and blends for their famous chocolate, and they even have their very own plantations th
at they use to create special limited edition bars.
I finally got try the salted chocolate that's been so popular this year. Duffy Sheardown, part chocolatier, part motor racer let me sample some of his. The flavour threw me off at first but on second try, it was really good. Seek out Duffy's stall. He's weird like most fanatics, but his chocolate is good.
Keep your eye out for the ladies on the Rococo stand. Their chocolates look so beautiful in their distinctive packaging and offer flavours I could only dream about including orange & geranium, lavender, basil and lime, and Moroccan mint. They even opened their special Christmas chocolate called Gold, Frankincense & Myrrh. It tasted of Christmas with the subtle spice and fruity flavours.
I didn't get a chance to try the chocolate churros stand, and I would have loved to have sampled the pretty boxes of Baruzzo Italian chocolates. Look out for the trembling stacks of cookies from Galeta and the various cake, fudge and novelty chocolates stalls.
I think these chocolate folk think the layman actually knows something about the thing they consume nightly in fits of late night dissatisfaction. But the truth is we just eat it, no questions asked. But if you do find yourself curious, don't be shy to ask questions. While they might be a strang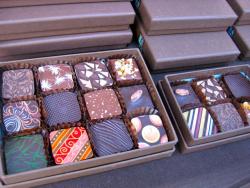 e bunch, they love what they do and they don't mind telling you about it.
Southbank Centre Square, Belvedere Road, London,, SE1 8XX. 11am-8pm on Fri & Sat, 11am-6pm on Sun