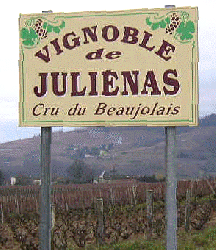 I have always felt that we British have been at a bit of a disadvantage when it comes to understanding the joys of Beaujolais.
We have been subjected to decades of merciless publicity trying to force us into feeling inadequate if we have not participated in the annual release of the drink-me-quick 'Nouveau'. This has diverted us from developing any meaningful relationship with the real wines of this ancient granitic region; the Beaujolais Crus.
Ten individual appellations, ten names that you need to be acquainted with because the word 'Beaujolais' is not usually to be found on their label.
Brouilly ,Côte de Brouilly, Régnié, Morgon, Chiroubles, Fleurie, Moulin-à-Vent, Chénas, Juliénas and finally Saint-Amour form an elite group representing a regional tradition going back centuries that seeks to express the finest possibilities from just one variety of grape; the Gamay.
There is no particular Cru hierarchy. The character of each is defined by the different soil types of their vineyards and the skill of the winemaker; though the styles can be vary from light and fruity to deep, dark and complex.
The excellent 2009 and 2010 vintages have been causing something of a revival of interest in the region and I have opened a few contrasting bottles to see how they are coming along.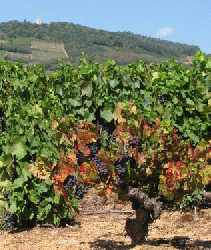 Before going into the Crus, and by way of a benchmark, I opened a bottle of Beaujolais 2010 Vieilles Vignes Alain Chatoux (£9.95 Berry Bros & Rudd ). A standard 'Applelation Beaujolais' made from old vines.
Purple tinged with a characteristic Gamay nose of red berry fruit and a hint of candy banana, the wine tasted light, acidic and of under-ripe blackcurrant at first but a return visit after long opening revealed good body and depth with raspberry fruit dominance.
Not too dissimilar is one of the lighter Crus, Chiroubles 2009 Château de Raousset (£10.33 Christopher Piper Wines. More refined but still young, this wine is dominated by tart cherry and redcurrant fruit with a smooth tannin structure comparable to Cabernet Franc from the Loire.
The difference between standard Beaujolais and the Crus is more clearly revealed by Juliénas 2010 Domaine les Côtes de la Roche (£12.49 Highbury vintners) Young, purple and still quite closed on the nose, the silky warm structure characteristic of Julienas is evident. The cherry/ raspberry fruit carries a little spice on silvery tannins which makes this wine very good with cheese. Two to three years cellaring should allow the full potential to emerge.
Brouilly is one of the most extensive and productive of the Beaulolais crus and is consequently better known. Brouilly 2010 Domaine Cret des Garanches (£11.70 Les Caves de Pyrène, slurp.co.uk) shows deeper, sweeter fruit than the lighter, more floral styles. Blackberry and plum enter the arena with mineral notes and soft tannins that will be a good accompaniment to grilled red meats.

From the neighbouring, steep volcanic slopes, Côte de Brouilly is a classic and elegant wine that is regarded as one of the best. Deeper in colour and noticeably richer on the nose, Côte de Brouilly 2009 Jean-Paul Brun (£12.70 Savage Selection) shows darker blackberry and baked fruit flavours with earthy undertones and a little caramel.
Give this another year or two in the bottle and it will make an excellent partner to the traditional regional food of sausages and Lyonnais potatoes.
For me however, the undoubted star discovery is Moulin-à-Vent 2009 Domaine Richard Rottiers (£13.60 HG wines.).
Oh so young but already coming on with the class of a Burgundy Pinot Noir. Displaying rich, ripe fruit, dark and toasted with notes of Christmas cake, this wine shows burgeoning complexity and a huge potential for development.
I know when I really love a wine because I head straight for the kitchen.
In this case I left the Moulin-à-Vent to open out for five hours while I prepared a slow cooked brisket in Beaujolais (of course!) with prunes, mixed spice and cloves.
I'll have another bottle please. In fact I'll take half a dozen and open one every year for the next six years and see what a wine from the Beaujolais is really capable of.
Related Links