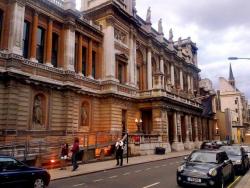 The Haunch of Venison gallery at the Royal Academy of Arts will be hosting the Krug Happiness exhibition from December 13th to December 20th. Krug has been crafting happiness since 1843 and so has asked celebrity patrons of arts and luminaries to 'create their own version of happiness' through donating something to the exhibition that embodies happiness to them. As this emotion means different things to different people, it's set to be an intriguing display.
Contributors include arts patrons David Bailey, Vivienne Westwood, Sienna Miller, Muiccia Prada and many others, with all proceeds going to support the Royal Academy Schools, raising vital funds for the Royal Academy Schools. Lady Amanda Harlech is the Co-curator of the Happiness Exhibition along side of Edith Devaney of The Royal Academy. Creative consultant to Chanel and Fendi, Lady Amanda Harlech understands the true meaning of happiness. Incorporating creativity and passion into her everyday work, she is extending her talent and enthusiasm by partnering with Krug and the Royal Academy for this invigorating presentation.
The exhibition is free, and the pieces will be sold during the week of the exhibition. Address: Haunch of Venison gallery at the Royal Academy, 6 Burlington Gardens, London W1.