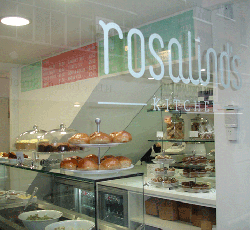 A nice little place with a nice little taste, Rosalind's Kitchen is just off the main drag in London's Little Portland Street. It's a take out cafe using seasonal ingredients sourced from specialist suppliers with meat and poultry from Sheepdrove Organic Farm and all dairy, eggs, root vegetables and flour is organic.
All very laudable then and the food menu reads well, lots of salads of course but at this time of year you may be tempted more by the hot dishes. We found the sausage rolls were really excellent, very different to the average with subtle but definitive spicing and luxuriously friable pastry.
Very yummy too was a chorizo tortilla made with Brindisa chorizo, fried onions, organic potatoes and organic eggs and some good falafels on a base of thickly herbed tabbouleh perky with lemon juice.
We also tried a fish cake with home made aioli and followed up with some dinky little mince pies which were a bit of a seasonal treat.
Rosalind's also now do office catering for lunches and meetings which must be a nice change from the usual sad sarnies and generally it's a lot better than lunch from a certain sandwich shop which rhymes with 'cold and wet'.
Well worth a try.
12 Little Portland Street London W1W 8BJ