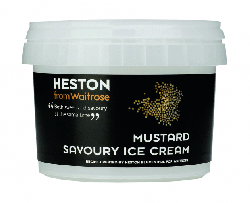 Hot on the heels of his 'straight from the freezer' biscuit dough comes Heston Blumenthal's new ice-cream for Waitrose. We're probably all familiar with Heston's jiggery pokery that gave us classics like bacon and egg ice-cream, but how do his haute creations translate to the mass market? The answer is rather emphatically, they don't.
I've always rather liked Blumenthal, which is not to say that his style of cooking is always up my street, but his boyish enthusiasm for blowing things up and wacky experimentation is one way of preventing the Michelin food scene from disappearing up its own backside. Heston seems to be having fun at least, which is more than you can say for the Rouxs and Ramseys – all stormy eyebrows and quivering jowls
Neither do I much care about a chefs association with high street brands, not if it helps get better food on our plates, but some of these associations have the distinct whiff of substandard fodder dressed up as high-end delectable. So what's new, you might ask? Celebrity endorsement happens in every area of consumerism: Kate Moss for Top Shop, Lilly Allen for H&M, Marco Pierre White for er… Knorr.
Taking stock
The problem is that there's a line of credibility that's not so much being crossed as trampled into the ground. Are we seriously supposed to believe that Marco, faced with the dilemma of how to season his free-range poulet noir, decides that pasting on a Knorr stock cube is the way to go? Viciously salty and vaguely fluorescent, if a Knorr stock-cube was the last thing left sitting in my cupboard I'd rather season my chicken breast with grass.
Inadvertently we're constantly being fed the schmaltzy, insubstantial lie that economics don't apply when it comes to eating good food, but perhaps it's worth remembering that the flipside to The Good Life was that Tom and Barbara were poor, childless and drove to town on a lawnmower; chances are that if you've got time to grow a cabbage, bake your own loaf, or use up that leftover confit de canard, you don't really need to, which I suppose explains why we're shown how to cook swift 'n thrifty treats by Charles Saatchii's wife.
Hard to swallow
This brings me back to Heston's ice-cream and the reason I found it so difficult to swallow. Literally. Salted Caramel Popcorn flavour tasted like someone had emptied the contents of a cinema hoover bag into a batch of Hokey Pokey; as I considered the possibility that gritty ice-cream is a postmodern form of memory-associated textural play, a husk of pulverised kernel caught the back of my throat and I was reminded of the time we found asbestos in the attic.
The pièce de résistance however, is the mustard ice-cream: pitched as the first ever commercially available savoury ice-cream Heston slams us one hell of a USP "It's both sweet and savoury at the same time!" I have a pretty liberal palate when it comes to flavour and I can see how a golden cream spiked with sweet and peppery Dijon might have worked, might have because in his tradition of confounding our expectations Blumenthal uses whole-grain mustard and the predominant flavour in this frozen abomination is of raw vinegar.
Not so nice ice
It's not just a matter of taste; nobody really knows what to do with savoury ice-cream. I defy anyone to eat a bowlful for desert and used to accompany savoury foods it has the effect of lowering your mouth temperature so that other flavours become muted. Although I had moderate success melting some over leeks and fennel I couldn't help thinking that the world's first commercially available savoury ice-cream by Blumenthal might by any other name pass without comment as a packet of frozen sauce.
Celebrity endorsement can work: Moss was a fantastic 'hands-on' ambassador for Top Shop and Jamie Oliver's range of herb rubs for Sainsbury's are based on sound principles. In the spirit of playful gastronomy Heston claims that his ice-cream is surprising and subversive, but do we really want subversive food? Ultimately we are the ones who will decide gimmick or gastronomic innovation, but if you want food that makes you think then my money was on Fearnley-Whittingstall exuberantly cooking his way through a meat-free summer in an explosion of rainbow veg. Food can be fun and even a little frivolous, but too much subversion over substance and you might just go hungry.