Pinkberry, the original Frozen Yogurt, will be swirling its way into Westfield Stratford on the 15th December. To celebrate the Californian brand opening its new store in London, Pinkberry have created a collection of limited edition festive toppings, in partnership with renowned food architects 'The Robin Collective'. Avail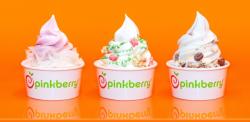 able exclusively at Westfield Stratford, the delicious limited edition toppings of Christmas Tree, Santa's Beard and Partridge in a Pear Tree bring some fantastic new flavours to the festive season this December.
Christmas Tree Pinkberry is a colourful treat of Pinkberry Original Frozen Yogurt, topped with glittering mini baubles made from white chocolate, mint and pine garland drizzle, and finished with edible glitter.
Santa's Beard is made from vanilla infused pashmak; Persian candy floss with a hair like appearance, which makes for a tasty treat on top of Pomegranate Pinkberry Frozen Yogurt.
Partridge in a Pear Tree is a spiced mix of sweet chestnut oat crumble topped with a pear sauce, infused with cardamom and star anise.
California born Pinkberry is the original frozen yogurt made with only non fat yogurt and natural non fat milk that results in a light, refreshing and clean taste. The new opening at Westfield Stratford is the second Pinkberry store to arrive in London and will house all the flavours; Original, Pomegranate, Watermelon, Coconut, Chocolate and Mango, not to mention over 30 toppings.
The three Limited Edition toppings- Christmas Tree, Santa's Beard and Partridge in a Pear Tree will be available exclusively at the Pinkberry store, Westfield Stratford from the 15th – 24th December, as long as stocks last.