319-321 King Street, Hammersmith, London W6 9NH, www.potli.co.uk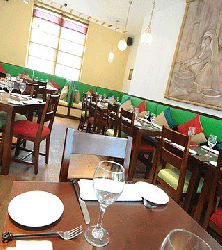 How excited were my sis and I to hear of new Indian restaurant Potli? The co-founder, Uttam Tripathy, is from the land of our ancestors in eastern India. There are few people from Orissa – or Odisha as it's now been renamed – in Britain. And here was one setting up his own restaurant!
We were there quicker than you can say, 'Parliament gave approval to amend the constitution and reverse its colonial name Orissa to that which reflects its traditional heritage," – we were there, at Potli, in, er, Chiswick.
Potli doesn't specialise in food from this region, unless you include the beautifully authentic date and tomato chutney. However, it chooses instead to flaunt the concept of the street market or bazaars, such as Chowringhee Lane in Kolkata, from which the recipes take inspiration.
The owners are working the brand hard; the menu will flag up if your masala lamb chop comes from Aminabad market tandoors in Old Lucknow. Or perhaps your bhel puri comes from Chowpatty beach bazaar in Mumbai, a market popularised by other modern Indian cafes such as Dishoom.
The very hospitable Uttam opened the restaurant three months ago and is working six days a week to fine tune the brand. He has plans to open five Potlis by 2015. He and his business partner had dreams of opening Potli when they were hospitality students in Chennai, he says.
Potli has already carved out its niche with its snappy red and green cushions, elegant décor and a muted, genteel, local resident-base. It also has grand plans for its bar. We tasted a very alcoholic chilli ginger vodka and a tamarind cocktail which was mellow and not as sour as you'd expect.
The absolute star of Potli's show is the starter Chicken 65, tender poultry in a pungent ginger and pepper batter, like an excellent and healthy KFC. We couldn't get enough. We also had tawa machi – tilapia fish steaks marinated in ginger, garlic and mustard which were good but we'd have liked more mustard.
Again, there was a bit of a mustard shortage in the prawn narkel diye – prawns cooked in coconut water and milk flavoured with mustard and coriander. Don't be shy of a little vertical spicing!
Our lamb biryani, often risibly awful and dry at Indian restaurants, was very good, princely and moist, rich with restrained and delicate spices. We're not sure it needed the peanut sauce that went with it though. The fresh okra was indeed fresh and well cooked but could have done with a touch less tomato.
Chef is still experimenting and is willing to consider suggestions from punters. The night we visited, he offered us an apple crumble just rumbling with cardamom and cinnamon.
We had a lovely night, friendly with authentic food and excellent spicing. Our only complaint is that we'd have liked to have seen more green vegetable dishes on the menu. Otherwise, here's hoping this spirited and entrepreneurial get-up contends successfully with the big Indian players.