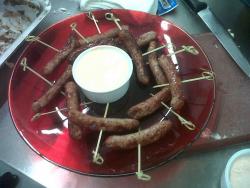 Asda and Leiths collaborating? Yes, surprising. But no more surprising than Waitrose coming out with an Essentials range. Both are trying to appeal to people at opposite ends of their food spend spectrum. Don't scoff cynically; make these recipes and scoff with smugness. They are ridiculously easy but impressively delicious.
Peppered hot-smoked salmon pâté
200g pack of Asda Extra Special peppered hot-smoked salmon
150g tub of Asda Extra Special creamy French whipped soft cheese
2 tsps Asda Extra Special horseradish sauce
Juice of half a lemon
Pack Asda Extra Special crostini
Flake the salmon onto a bowl, checking for bones and removing them.

Add the other ingredients and mash them together with a fork.

Spread, or dollop, on crostini.
Goats cheese, walnut and honey crostini
Pack of Asda Extra Special Poitou-Charentes goats cheese
12 walnut halves
4 tbsp Asda Extra Special orange blossom honey
Pack Asda Extra Special crostini
Pre-heat the oven to 200ºC/gas mark 6

Spread the crostini with the goats cheese and top each one with a walnut half.

Arrange the crostini on a baking tray.

Bake for three to five minutes.

Remove from the oven and drizzle with the honey.
Sausages four ways
Asda Extra Special small chipolatas
Jar Asda Extra Special mango chutney
Greek yoghurt
Harissa
Sweet chilli dipping sauce
Asda Extra Special orange blossom honey
Wholegrain mustard
Preheat the oven to 180ºC/gas mark 5

Lightly grease a baking tray and lay the sausages on it in a single layer.

Bake, shaking the sausages from time to time so they brown all over, until cooked through (about 30 minutes).
For harissa dip: Mix Greek yoghurt and harissa together to taste.
For honey mustard sausages: Five minutes before the sausages are cooked, drizzle over some of the honey and stir through some wholegrain mustard.
For mango chutney dip: Stir the mango chutney into three tablespoons of Greek yoghurt and serve as a dip with the sausages.
For sweet chilli sausages: Five minutes before the sausages are cooked, stir through some sweet chilli dipping sauce to glaze the sausages.
Watch out for more recipes, and a round up of the evening we spent with Leiths and Asda making these canapés as well as a delicious starter of roast butternut, broccoli and feta; a main course of venison with a red wine sauce, parsnip and crème fraîche purée and stir-fried sprouts with chorizo, a very impressive alternative to turkey; followed by a ridiculously easy Yule log. Yes, that could be your idea of the perfect Christmas Day feast.
Check out the whole of the Asda and Leiths Extra Special range