Daring to brave the supermarkets at this time of year requires a courageous and determined shopper. It helps to know what's on offer before you go, so you can hone in on the necessities and bypass those tempting special offers, that always seem to make you spend more than you wanted to! Here, we look at the offerings from Waitrose, Sainsbury's, unearthed® and Paxton & Whitfield.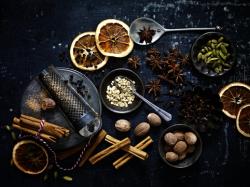 Waitrose's main feature of its festive range for 2015 is the Christmas Signature Spice blend – a mix of nutmeg, cinnamon, cardamom, black pepper and orange zest – that features across its selection of 30 food, drink and homeware products, from the Turkey Parcel with a Pork, Gingerbread and Apricot Stuffing, and Christmas Spice Smoked Scottish Salmon, to the Christmas Pudding with Tangerine Sauce and mince pies (and don't forget the shower gel that will make you smell like a, er, mince pie).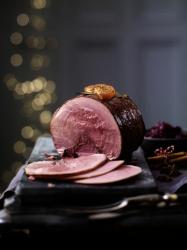 Other savoury treats with the blend include the Whole Signature Spiced Ham with Tangerine, Cardamom & Ginger Glaze, and a Turkey Paupiette with Gingerbread Stuffing & Signature Spice Glaze. Sweet treats include a Christmas cake, made by baker Fiona Cairns, decorated with nuts, glacé cherries, demerara sugar with marzipan stars with the sponge enriched with brandy and the Signature spice blend.
I loved the Signature Spice Hot Chocolate – Belgian chocolate with the Waitrose Signature spice blend and a gold powder that creates a shimmering effect on the top – like liquid gold.
Waitrose has a good choice of seafood; from Peat & Heather Smoked Salmon, Poached Salmon Mousses, and Madagascan Crevettes, to the Dressed Canadian Lobster, which would make a stunning centerpiece for your festive lunch. And there's the Duchy Organic range with a wide choice of festive food, from Free Range Dry Aged Bronzed Feathered Turkey and Christmas Pudding to cured meats and accompaniments.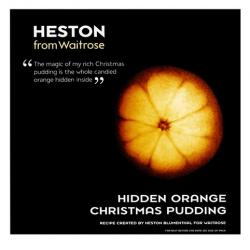 Don't forget the Heston From Waitrose range too, with a wide choice of inspiring, unusual products to choose from. How about Mulled Toffee Apple Cider or the Stuffed Gammon with Heston's unique stuffing, plus basics such as the Turkey, Sage and Onion Gravy or the Earl Grey Tea Stollen Bites?
The bestseller since its launch is also back this year – the Hidden Orange Christmas Pudding, made with cider and sherry, with a whole candied orange at its centre. My favourite this year (having a sweet tooth) is Heston Blumenthal's range that taps into the trend for sweets for grown-ups by adding popping candy to chocolate to create small bite-sized treats, and a tart that crackles on your tongue and creates a fantastic contrast to the smooth rich chocolate.
That trend continues with the Cherry Bakewell Vodka and Earl Grey and Lemon Gin – both fantastic twists on traditional cocktails.
If you want to avoid the Christmas crowds, Waitrose has seven dedicated websites for you to choose groceries, food for entertaining, waitrosecellar.com (powered by wine experts), waitrosegifts.com (including hampers), waitroseflorist.com (for bouquets and plants), waitrosepet.com (for every animal owner) and waitrosegarden.com (horticulture products).
Paxton & Whitfield sells 'exceptional cheese since 1797' and during the festive season, the four bijou shops in London, Bath and Stratford-upon-Avon have long queues of people, waiting to get their hands on true artisan cheese, while munching on tasters from the range and washing it all down with some mulled wine.
You know you're getting quality when you buy from P&W, but just what should you go for? If you don't have a favourite cheese, or you want to experiment, Paxtons has created two cheeseboard suggestions – one traditional and the other contemporary.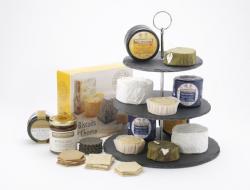 The traditional board includes a cow's milk Beaufort, an Alpine cheese made in the Savoie, France, named after the Beauvoir Valley where it was first produced. If you care how your cheese is made, this will impress you: the cheese is made using summer milk from high mountain pastures, curds and whey are separated by brassage sur le feu (mixing over the fire) where curd is heated to a high temperature, then it is placed in linen cloth (giving it its distinctive concave heel), pressed, salted and matured in humid caves for at least five months. It's delicious; a subtle flavour with a crumbly texture.
Next is the Stilton, creamy yellow with blue-green veins; one of the best for fans of blue cheese (not me, but my husband was impressed with the flavour and texture) and Waterloo, which was my favourite of the three: made by independent cheesemakers Anne and Andy Wigmore of Village Maid Cheese in Berkshire.
Made with Guernsey cow's milk, it uses a washed curd technique, replacing some of the whey with water before it is drained from the curd, reducing the acidity in the cheese and giving it a mellow flavour. Waterloo (named after the Guernsey cows milk originally from the Duke of Wellington's estate), is great for those who like subtle, medium cheeses with a tang of salt.
The contemporary cheeseboard includes Beauvale, Bosworth Ash Log and Hubaner. Beauvale, inspired by the idea of making a handmade British substitute for continental soft blue cheeses, full and savoury with a hint of spice, developing a runny centre as it ages.
Bosworth Ash Log was my favourite from this selection – a creamy goat's cheese, rolled in salted ash, the flavour is tangy citrus and buttery with a soft texture. Hubaner is an Austrian aged hard cheese that is rich and heavy, with nut flavours and spicey aftertaste that lingers.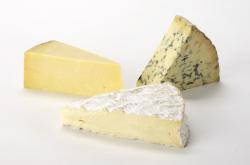 Accompaniments include the delicious Quince Cheese, Apricot & Orange Confit,  Caramelised Onion Chutney and Spiced Plum Chutney and crackers include the Poppy & Linseed and Celery and Sea Salt Oaties.
There is also a choice of hams, all produced from outdoor-bred, British pigs with no artificial colours or flavourings added. Choose from the Paxtons Ham, cured in the classic Wiltshire manner where the leg is bathed in brine, producing a moist texture; York Ham, dry cured and salty and Black Ham, which is marinated in molasses, juniper and spices before being matured for three months.
Accessories include a Cheese Tasting Book, where you can keep notes on strength and texture, types of milk and rennet used, style and rind; Slate Cheese Markers for labelling your cheeseboard and, of course, knives.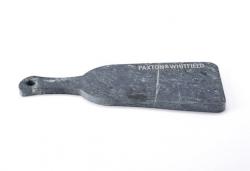 The Soapstone Serving Board is one for impressing your dinner-party guests, and you could even have a go at making your own cheese with the Cheese-making Kit. Hampers start from £20 for a trio of cheeses and go all the way up to £300 for the Gourmet with Wine Deluxe, a wooden hamper full of P&W's bestselling products with everything you need to enjoy and share your cheese and ham.
The first sample I tried at Sainsbury's was the Taste The Difference Scottish Salmon & Scallop Tartlets, which were fantastic. A fragrant combination of salmon and scallops baked in a filo pastry case with cream, cheddar, white wine, brandy, onion, fennel, tarragon and Dijon mustard.
An excellent choice for an easy first course, if you're preparing the rest of Christmas Dinner from scratch, these just need to be warmed through in the oven. There's also an unusual salmon centrepiece, offering a pastry-free option to salmon en croute, but it is not one for pescatarians, as the salmon has streaky bacon plaited into it, which looks great but, if you're avoiding meat, you'll need to avoid this as well, which is a shame (By Sainsbury's Scottish Salmon Plait with Streaky Bacon and Maple & Thyme Butter).
There are ready-made and ready-to-cook vegetable sides, including Taste the Difference Rainbow Glazed Carrots and By Sainsbury's Ready to Roast Sweet Potatoes and Shallots and the main turkey for 2015 is the Taste the Difference British Free Range Bronze Turkey Breast Joint with a British Pork, Chestnut & Bacon stuffing and Bacon Lattice; free-range, and GM-free with the bone removed for easy carving.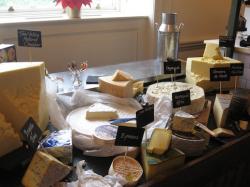 The range of cheeses are extensive this year with new flavours including Taste the Difference Sugar Plum Wensleydale with cognac-steeped plums and caramel pieces, and Taste the Difference Slate Cavern Aged Cheddar, matured for 11 months, then moved to a slate mine and matured for a further 3 months for a strong flavour and creamy texture.
Desserts are heavy and indulgent: the Taste the Difference Belgian Chocolate Buche de Noel is beautifully velvety and rich, while the Mulled Cassis Torte is a fruitier alternative with blackcurrant and white chocolate mousses and a mulled wine topping. Mini mince pies and Ecclefechen pies are just the right size for entertaining, and other moreish party food includes Chorizo Sliders with Manchego and Roasted Red Pepper Relish; Roast Pork Lollipops with Apple Sauce & Crackling Dip, and Brie and Cranberry Tarts.
 I was impressed with Sainsbury's chocolate gifts, created by chocolatiers Caluwé Artisan in Belgium, the Taste the Difference Belgian Chocolate Marc de Champagne Cocktail Assortment has lovely rich flavours of marc de Champagne, kir royale, bellini and mimosa, with a topping of popping candy for a touch of fizz.
unearthed®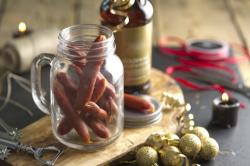 unearthed® is known for its range of easy to prepare and share sharing plates and snacking products from Britain and across the Mediterranean, from olives sourced in Greece, prosciutto from Italy to Spanish chorizo and British smoked semi-dried tomatoes, there's something to satisfy every taste.
For Christmas this year, unearthed® has produced a selection of reasonably priced foodie gifts for the first time. My favourite is the Olive Connoisseurs Selection – with Atlas, Kalamata and Conservolia olives with rosemary and black pepper, Gordal, Leccino and Gaeta olives, and the Mini Chorizo Sticks in a Beer Mug; a great-looking gift and one that has two functions – you can use the mug to fill with beer and wash down the chorizo!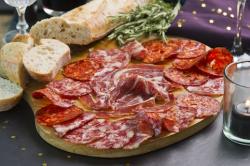 I also really enjoyed the Spanish Gift Box, including mini chorizo sticks, wine-soaked goat's cheese, Couchillo olives and roasted corn, and the Chorizo Skewers and Chorizo Pigs in Blankets – for a Spanish twist to traditional Christmas lunch. The Italian platter is also worth a mention, with Pecorino cheese, Nocellara olives, Milano and Napoli salamis and prosciutto crudo.
If you're not sure how to make the most of the products, discoverunearthed.com has a wealth of ideas, recipes and inspiration and what's more, 1p from every unearthed® pack sold goes to Action Against Hunger, a charity working to help malnutrition in developing countries, so you can feel good this festive season about enjoying delicious food and helping those who can't.