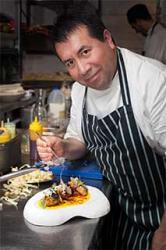 Who doesn't love a Peruvian restaurant? Big fresh flavours, bright colours and creative combinations, it's high on my list on favourite cuisines. A huge fan of Covent Garden's Lima Floral since it opened, I was more than happy to drop by and sample a brand new dish, created with saving the Amazon in mind.
Little sister of the Michelin-starred outpost in Fitzrovia, Lima Floral is slightly more relaxed with bright, buzzy décor and a stellar menu packed with tender grilled meat, delicate fish, corn bread from heaven and most importantly lashings of tiger's milk – the hot, tangy, garlicky sauce traditional in Peru. The cocktail bar downstairs offers perfect Pisco Sours and it's a great place to hide away and work your way through all the different varieties (ill-advised as that may be).
Lima Floral's Head Chef Robert Ortiz has created a new dish in honour of the Restaurant's partnership with the Crees Foundation, a not-for-profit organisation which is dedicated to supporting a sustainable Peruvian Amazon. 
Paiche Camucamu is full of flavours combining traditional Peruvian produce with special ingredients commonly found in the Amazon; seared paiche (a meaty white fish), camucamu tigers milk, brown butter and kiwicha cereal. The new dish is now available, for a limited period only. It is priced at £26 with 25% of the proceeds from each dish sold going directly to the Crees Foundation.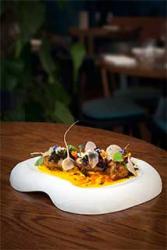 Quinn Meyer, Founder at Crees, says: "We are truly excited about this partnership with Lima Floral and the creation of this dish – it really does celebrate the beauty of the Amazon. It's great to work with people who share a passion for all things Peruvian and to showcase some of the delicious ingredients and products from the area.  The Amazon is one of the most beautiful and enchanting places in the world and I hope that together with Lima Floral, we will not only increase awareness of the Amazon's great food but we can also ensure they have a great evening out in London!"   
The dish itself is delicious – the fish is full of flavour and flakes apart like black cod, with spice from the tiger's milk and a bit of texture from the kiwicha.
Robert Ortiz says "I was born and raised in the Amazon region so this is a very exciting opportunity for me to embrace the vibrant and diverse produce of my home. The team at Lima Floral and myself are proud to support the work that the Crees Foundation does in the area." 
Visit here for more information on the Crees Foundation and here to book Lima Floral.