E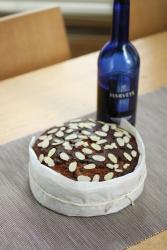 very year I face a culinary conundrum when I see the festive season approaching quickly. What to bake that will not only showcase my baking skills but also gloriously be the centre piece of my Christmas dessert table? Would it be one of the many egg induced creations which compose the vast repertoire of my Portuguese cooking heritage? Or a polite, fruity and yet potent pudding from England, the country which I now call home?
This month the answer came in the form of a wicker hamper. Intrigued, upon its arrival, I slowly started to unwrap the crisp cellophane which blurred the sight of a mix of dried fruit packs, a beautiful blue bowl, a pewter coloured spring form and an indigo blue bottle which, together with a note, gave away the sender's provenance: John Harvey's & Sons.
I soon realised that this assemblage of oddments, composed almost all the ingredients and instruments required to produce an English Christmas cake. In these austere times, when we're all going back to fundamental principles, what a brilliant idea from this well established wine merchant and producer to get us baking using this so well known home brand of sherry, Harvey's Bristol Cream.
I must confess I favour Port, because I come from the city which produces it, and I grew up seeing it served on special occasions. Nevertheless, I am not indifferent to the smoothness of a glass of sherry or for example in how effective this drink can be in adding flavour to a creamy risotto. I also love the stories of friends who tell me it is a sign of Christmas when, this iconic blue bottle comes out of the cupboard, to be opened cheekily for elevenses with a couple of crusty mince pies.
I got going with all the ingredients supplied and started soaking the fruit in some tablespoons of Bristol Cream, which after one day, soaked it all up and produced an almost caramel trail which coated the blue bowl supplied. Then, with a glass of this sherry as a companion to savour inbetween steps, I followed all the stages from a traditional Christmas cake recipe, and placed it in the oven.
I baked it slowly for 4 hours in the high sided, pewter spring form which was wrapped in some sheets of old newspaper and tied tight with string to avoid burning the cake. When ready and cooled, I started the still ongoing process of feeding the cake with tablespoons of sherry, which will continue for some weeks before completing it with a veil of golden marzipan and crisp white sugar icing.
The cake is now kept within an old biscuit tin which is placed at the back of my wardrobe. Not quite Narnia, I know, but a jewel that is maturing, perfecting and filling me with wafts of deep fruity alcohol which feed my Christmas anticipation when I open it at the weekends. Harvey's Bristol cream is part of the mainstream range of this producer's wine catalogue, although I found it pleasant and so efficacious in producing the well drunk fruit which composed the foundation of my Christmas cake. It also made my baking experience even more relaxing, because together with some orange peel and ice cubes, provided a delicious drink for the afternoon when I baked this year's chosen festive dessert.
While you're waiting for the Christmas Cake to mature, why not see what London is doing for Thanksgiving. Expats who can't go home for this favourite American event, will have plenty to choose from this year.