The table is laid with the host's best china and an abundance of harvest themed decorations. Smells of roasting turkey, sweet potatoes and pumpkin pie wafts out of the kitchen. Festering family arguments are dredged up, you can hear the game on the TV in the background and your uncle visiting from Florida has already had too much to drink. It's enough to make an expat want to buy a return ticket home and dive into the embrace of the family for one of America's favourite holidays, Thanksgiving.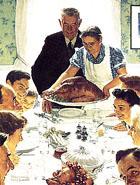 If you can't make it home for the annual giving of thanks this year and have to spend the 24th of November under the grey skies of London, don't be too disappointed. London puts on quite a show for the expats on Thanksgiving.
While some Brits might scoff, I have spent Thanksgiving with relatives in San Fransisco and let me tell you it was one of the most memorable evenings of my life. All the stops are pulled out for this meal that has a noble heritage and family pulling power second only to Christmas. Originally a celebration of good harvest bought over by the settling Europeans, Thanksgiving was given added potency in 1621 when the Wampanoag tribe provided extra food and joined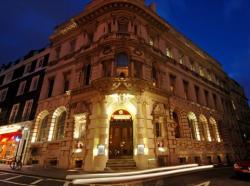 the settlers' first ever celebration of the harvest.
Traditional dishes on the Thanksgiving menu include the tryptophantastic roast turkey served with sides of cranberry sauce, sweet potato mash, roast potatos, green beans and carrots and most importantly corn on the cob, symbollic of the first successful corn harvest made possible by the sympathetic Native Americans. Desserts would usually include apple pie, pumpkin pie or even pecan pie, or perhaps all three if you're lucky.
Whether you're after the finest menu and even finer manners of the elegant Benjamin Franklin House on Craven St or looking for something a little more intimate and home-style like a supper club, take a look at these top spots to celebrate Thanksgiving in London 2011.
Call me a purist, but I happen to think that perhaps the American's might do Thanksgiving best, so I have put together a little list of USA style restaurants that might carve the best birds in town.
You can always count on the Big Easy BBQ to deliver the goods when it comes to Thanksgiving. With big, hearty portions of soulful American fare, the King's Road restaurant is doing this November with a 'No Nonsense' Traditional Thanksgiving.

Big Easy Bar.B.Q & Crabshack – www.bigeasy.co.uk
332-334 Kings Road, Chelsea, London, SW3 5UR
020 7352 4071
The Bootleggers are roasting a massive White free range turkey from London's best butcher HG Walter and serving it up at the table with everything you'd expect – so come and see whytheir American friends rate this a bigger night than Christmas! Don't delay, supper clubs book up fast get your tickets at www.wegottickets.com
The Bootleg Banquet Supper Club – pestleandmortarcatering.blogspot
6 The Huntingdon Estate
Corner Chance Street & Bethnal Green Road
E1 6JU
0207 7390426
Every year on the last Thursday of November, Missouri Angel organises Thanksgiving lunch and dinner for American expats in London as well as those fond of roast turkey and pumpkin pie. The menu is varied and hearty and includes all the traditional essentials.
Missouri Angel – www.missourigrill.com
America Square
14 Crosswall St
EC3N 2JY
020 7481 8422
Held at the stunning Butchers' Hall with over 140 guests in attendance last year. Proceeds from ticket sales will help continue the important work of the House in promoting history, education, and international engagement in the spirit of Franklin. Tickets are £65 for adults and £25 for children.
Benjamin Franklin Hous – www.benjaminfranklinhouse.org
36 Craven Street
London WC2N 5NF
0207 839 2006
All-day. Simply the greatest American celebration in London, Christopher's stylish restaurant will not disappoint with a combination of classics and innovative dishes on their 2011 Thanksgiving menu. Probably worth going for the cranberry martinis alone.
Christopher's – www.christophersgrill.com
18 Wellington Street
Covent Garden, London
WC2E 7DD
020 7240 4222