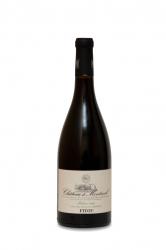 I have long since been enthusiastic about wines produced at Mont Tauch, the exemplary cooperative deep in the heart of the ancient Cathar region in South West France.
As a youthful Francophile, I was drawn to the big, fleshy red wines of Fitou with their characteristic pungent mix of thyme, rosemary, lavender and juniper that perfectly reflects the local Mediterranean landscape of the wild 'garrigue'
Over the years, it has been a pleasure to discover that wines bearing the Mont Tauch hallmark have represented excellent quality and value at every price range.
Mont Tauch, along with their good everyday wines, produce a selection of premium reds aimed at bringing the best out of the varied favoured terrains.
Château de Montmal is a new and sustainably produced Fitou from the village of Villeneuve-les-Corbières which, together with Paziols and Tuchan is one of the three villages to produce Fitou at Mont Tauch.
Not at all fat or jammy, Montmal is maybe a little lighter than I expected.
On the nose, delicate raspberry, deep cherry, the 13.5 % alcohol already makes its presence felt.
On the palate, the hallmark Fitou herb and spice colours are present and restrained.
Twelve months in wood is beautifully integrated through refined tannins; a little liquorice on the finish.
2009 was a good year in Fitou. There could be more concentration in the fruit but the winemakers here have clearly gone for elegance and balance; more charm than power, serving as a reminder that wines from the south are working towards comparison with their classic counterparts further north.
This wine may be from cassoulet country but I chose to pair my bottle with a brace of roasted pheasant. The result? A warm feeling of satisfaction that my love of Fitou is alive and well and mellowing with age.
Château de Montmal 2009 is available exclusively online at Marks and Spencer with a minimum order of six bottles at £77.94 (single bottle price £12.99)