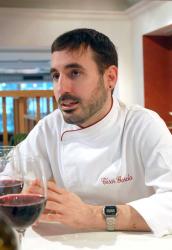 Iberica Food and Culture, one of the most stylish Spanish restaurants in London and one of the best, is to open a new restaurant in London's Canary Wharf on November 21st. Good news indeed for the suits marooned out there in a sea of money. Ahead of opening we chatted to Cesar Garcia, head chef at the Great Portland Street mother ship to hear a bit more about the new restaurant and taste some of his favourite dishes from the menu
So Cesar you'll be head chef at Iberica, does that mean you'll be abandoning Great Portland Street?
No I have a head chef in place here and I shall be going back and forth for a while, it's very exciting because the kitchen at Iberica Canary Wharf has been designed from scratch so it's going be bigger and easier to work in and I'm looking forward to it.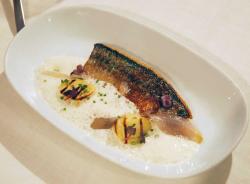 And the menu will be the same?
Same menu, same style, the same ambience and concept but with a smaller shop than here. The food needs to be the same quick food too because at lunchtime it's that sort of busy area, even busier than here.
Which means tapas is spot on for trend?
Absolutely yes. It means a person on their own can just pop in, sit at the bar, order a few dishes and enjoy them just as much as a couple or a group can. Nearly all our dishes are single portions, with a few exceptions.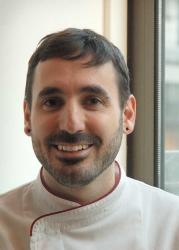 How many dishes are there on the menu?
We have about 42 not counting the cheeses so you could come seven days and have six different dishes every day and then of course there are the jamons! We will have even more jamon than we have here. There will be 80 or wines too as we have a Gold Nose Spanish sommelier who trains our waiters and creates our lists with wines from all over Spain. Wines that people can also buy to take home from the shop with take home meals too, which I think people will love to do. Oh and by the way at the new restaurant there will be paella on Sundays!
We say tapas, but yours are a long way from what we might call traditional?
Well I like to deconstruct some of the classics, cook and present them in a new way but still recognisable. If you know first how to do the basics, the originals, then you are qualified to experiment and to change and adapt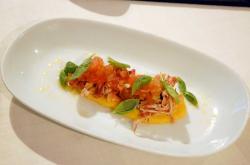 Like this Chickpea puree with chorizo, pancetta and tomato we have here?
Yes this in many ways is a classic Madrid stew, however we have taken the meat off the bone and pureed it with some tomato concasse, vinegar and a bit of spinach. The chorizo and pancetta are in smaller pieces. It's more modern looking and easier to eat too. The dry chick peas are carefully sourced from Spain, as are almost all our ingredients at Iberica, and cooked with carrots and leeks
Sourcing is important to you?
Yes, because we've known many of the producers personally for a long time so we know how they work and trust them. We know every step of the food's way here, total traceability right down to the grass that the cows eat.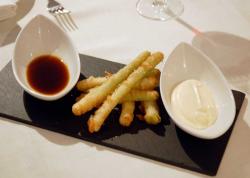 What about these spring onions in tempura batter with soy sauce and a lemon aioli dip?
This is influenced of course by Far Eastern cooking, I have never worked in anything but Spanish kitchens but I eat everywhere and I bring ideas back to my kitchen. London is so good for discovery of food. The batter by the way is made with sparkling water from Asturia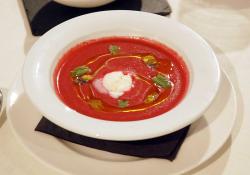 This gazpacho is the best thing I've tasted for ages, what on earth is it?
It's pureed beetroot with red fruits and what you might call earthy herbs like thyme, together with anchovies, mint and a soft cheese ice cream. The play of the flavours on the mouth is very special, some acidity from the tomatoes and the red fruits, the sweet and sometimes sour of the beetroot and then the salty anchovy to cleanse the palate. It's fun and games! We only use the best quality Spanish anchovies from Cantabria packed in the best olive oil.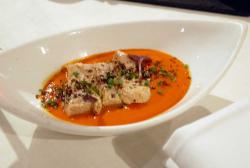 This Salmorejo of roasted peppers & tuna belly salad is also brilliant
Normally for Salmorejo tomatoes are skinned and then puréed, here we are roasting the tomatoes and peppers and using the best part of the tuna with just a bit of lemon.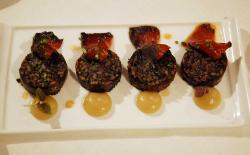 The Morcilla de Burgos filled with rice confit of Piquillo Peppers looks a treat
Very good morcilla, or black pudding, this comes from Burgos the capital of morcilla. We have four different kinds in Spain. Different to British black pudding of course and also different to the French version.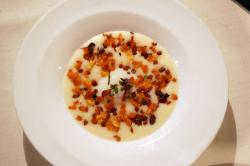 And what is this!
A classic shepherd's dish from the centre of Spain. They would cook their food out in the country on an open fire, so they would use bread, pancetta, chorizo with eggs and garlic. The egg makes you strong. What we do here is make a potato foam to be nice airy, we cook the bread, ham and the chorizo and the egg just soft in the centre. You break the egg and stir it in. We just make ours here more elegantly like everything we do at Iberica of course!
We sit back and enjoy a dessert that is sweet and rich, the perfect antidote to the wealth of savoury that has gone before. Cesar's cooking is so good, so imaginative, versatile and yet rooted in tradition that the good people of Canary Wharf can only be envied for their luck.
If you're one of them, then November 21st can't come too soon.
Iberica Food & Culture Restaurant.
195 Great Portland Street, London, W1W 5PS
10 Cabot Square, Canary Wharf, London, E14 5NY Opens November 21st Reservations are now being accepted

020 7636 8650 ana@ibericalondon.co.uk