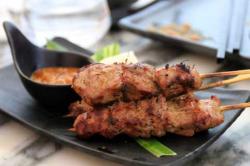 I'm not really a street food kind of person, at least not in the UK. I've munched in Malaysia, snacked in Singapore and struggled to find a suitable verb in Vietnam, but they're all places where eating is almost constant. The people of those lovely countries are like eating bicycles, if they stop feeding for a moment they tend to wobble and fall over.
And the street food is great, no doubt about it. The herbs, vegetables and spices have come a few hundred yards from where they're grown, not a few thousand miles. The sheer throughput of customers means everything is cooked fresh to order, nothing is left hanging about. It's cheap, at least for Western wallets, and you can perch on anything handy to enjoy your snack before diving back to get something else.
Here though? Hmmm well the weather's a bit against it for a start, the streets themselves have little charm and some element of danger and the ingredients are not usually the freshest or the best. Plus I like to sit down and eat these days, eating on the hoof I find increasingly bad for my digestion.
So the phrase 'inspired by street food' is more attractive to me. It suggests the right tastes served in a smarter way, and few places are smarter than Sanderson. I've always loved the fancy foyer, often drank at the bar and usually liked the people I see in there. Rich, stylish, fashionable and all too often desperately good looking. It makes me feel special, even though I am technically scum.
Suka at Sanderson are, for a short while, offering a 'pop up' street food menu from visiting Malaysian Chef Ahmad Shuib. 'Pop up' is of course, like 'passion' one of the most overused words in the restaurant lexicon these days, but obviously it sounds better than 'temporary'. The menu is lower priced than Suka standard and the dishes are intended to be more shareable, more relaxed and more vibrant.
Sitting in the covered courtyard is lovely. The noise level is just right, the music inoffensive, the light so low I have to use the Blackberry to see the menu. The, inevitably, East European waitress is nice and helpful and suggests we choose three dishes each, which sounds okay as they aren't anywhere near as expensive as I expected from 'old' Suka.
Malaysian vegetable spring rolls were cut in half on the diagonal which made them easy to dip in the chilli spiked vinegar. Tightly packed and gracefully free of grease they were okay without being special. The beef satay was much more interesting with excellent rib-eye cooked perfectly the right side of medium. Its marination in lemon grass, galangal and turmeric did it a good turn and the satay sauce was not the usual peanut butter con trick, but a fiery little number that set off the meat properly.
Dishes came, as predicted, when they were ready so I was still fencing with my satay stick when the Soteng Goreng arrived. It's supposed to be crispy squid and wasn't, but actually none the worse for that. The squid was butter soft and the green peppercorns stuck to it were lovely little flavour bombs. Space was then cleared for the arrival of a Claypot Ayam, so hot it had to be treated with respect but inside a mixture of chicken, rice, Chinese sausage and shiitake mushrooms was spot on for a succession of balanced flavours and textures.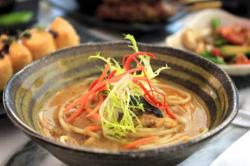 We were warned that the Kapitan Kambing would be a bit spicy and it sure was, but it wasn't coarse or brutal just an elegant burn built into each very tender lamb piece. The coconut soothed and the starch of baby potatoes administered a spice antidote. Easier on the tongue was Char Kway Teow, a dish of flat noodles that was silky smooth, gently spiced and extremely good. I'm a sucker, or is it a slurper, for well-cooked flat noodles and these were perfect.
Desserts were, as often the case with Malaysian, not that exciting but well-executed and fresh. The berries with a ginger sorbet was rather better than it sounded while the apple tart with caramel sauce sticky and filling. A bit too filling perhaps, after what was a rather substantial set of dishes.
Good prices, good food, great location and a particularly good deal at lunchtime, Suka's Malaysian actually turned out to be right up my (Berners) street after all.