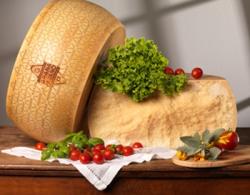 For many people in this country, cheese means one thing;Cheddar. The supermarket shelves bear witness to its popularity. Yet there is a huge variety of cheese throughout the world. Britain alone has produced over 700 different varieties in its long history.
This often bewildering level of choice means that we often plump for the well known, the tried and tested. Yet it pays to try something a little different if only to confirm your prejudices. I attempted to expand my culinary horizons, by attending a Grana Padano masterclass hosted by Gennaro Contaldo.
Most likely known to you through his involvement with his Protégée Jamie Oliver, as well as for his 16 second omelette on hungover foodie favourite Saturday Kitchen, he is a talented chef in his own right, who has been working in restaurants since the age of eight. He proved a lively host to my cheese education.
For those of you who haven't heard of Grana Padanao, here is the low down. Relatively unknown in England, it is one of the most popular cheeses in Italy. Indeed, among cheeses with a P.D.O, it is the biggest seller in the world. Similar to Parmesan in production method, but lighter and as Gennaro told us, lower in fat. The name comes from the distinctive grainy texture and it has been made in Italy for over a thousand years. It is generally sold at around 9, 14, and 24 months old and I got to taste the latter two as part of some classic raw Italian dishes.
A beef carpaccio topped with Grana Padano and shaved white truffles was an enjoyable start to proceedings. The cheese itself was excellent providing great contrast to the beef. The 14 year old son of one of my fellow hacks, forced along due to half term issues, pronounced the cheese 'lovely", and was a instant convert to the over ripe sock smell of truffles.
The raw artichoke salad and fresh basil pesto that followed also provided great ways to use the cheese. A tip from Gennaro was that you should pound the basil in a pestle and mortar rather than blending it, as by blending it you lose some of the freshness of the basil
Being generally younger, Grana Padano provides a similar taste to Parmesan at a generally reduced price. It is definitely something worth looking into, being an excellent cheese in its own right.