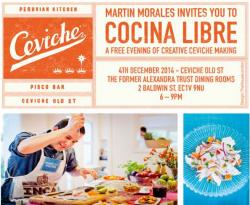 On Thursday 4th December, to celebrate the upcoming opening of Ceviche Old St in March 2015 and before building work starts at the site, renowned Peruvian chef, restaurateur and best-selling cookbook author Martin Morales is welcoming all to 'Cocina Libre' – a complimentary one-off evening of freestyle ceviche making, arts and music at what will become his new restaurant in Old Street.
Guests will be the first to step inside and see the space at the historic former Alexandra Trust Dining Rooms on City Road, and will be given the opportunity to meet Martin and create their very own ceviche – the national dish of Peru. The best dish will then feature on the menu when the restaurant opens next year.
Literally translated as'Free Kitchen', Cocina Libre will bring together food, art and music and break down the barrier between chef and diner. It all started with a dream Martin had just after first seeing the site, and him wanting to involve neighbours and friends in the new restaurant and thinking of a way to let people into the site before the full restoration commences.
 Typically made from fresh raw fish cured in a combination of citrus juices, spices and chilli – known as Tiger's Milk, ceviche is the national dish of Peru, pioneered by Martin who opened Ceviche in Soho in 2012, which kick-started the Peruvian restaurant craze in the capital.
Guests will be given all they need to make their own ceviche including a wide range of fresh ingredients. Throughout the evening, Martin and his chefs will note their favourite ceviche creations, with a final shortlist tasted by Martin and the winning dish added to the menu at Ceviche Old St. Alongside their freestyle ceviches, guests will enjoy a range of freshly squeezed juices whilst viewing artwork by renowned Peruvian graphic artist Cherman and listening to vintage Peruvian music on vinyl.
Cocina Libre is a free event, however booking is essential. Each ceviche-making session will last up to 45 minutes. The first session starts at 6pm and the last at 8:15pm. All ages welcome!
Thursday 4th December 6 – 9pm
Booking essential – please visit: www.cocinalibre.eventbrite.co.uk to book a session.
Four sessions are available:
Session 1: 18:00 – 18:45 Session 2: 18:45 – 19:30Session 3: 19:30 – 20:15Session 4: 20:15 – 21:00
Tickets limited to one session per person – 50 people per session.
Ceviche Old St (opening March 2015)
2 Baldwin St, London, EC1V 9NU 
Follow: @CevicheUK on twitter and Instagram