12A Finsbury Square | London | EC2A 1AN www.finchspub.co.uk
Amy finds pub grub has grown up when she visits the new Young's near Moorgate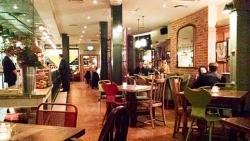 Young's pubs to me are patterned carpets, brass railings and microwaved burgers – harsh perhaps but their venues have certainly never been destinations for dinner, or even necessarily drinks. However, having had the pleasure of visiting Finch's – one of their smart new venues, that's looking like a thing of the past.
Standing between Moorgate and Old Street, Finch's is relatively unassuming from the outside, but once you're in it opens out into a Tardis-like expanse of pale wood, mismatched furniture, birdcages and lots of quirky little details that make it feel like a unique oasis in a desert of chains; a great achievement for a major pub group.
I will have to attempt to curb my enthusiasm for my starter or this will turn into a novel. Perfectly boiled runny egg, soft, creamy pasta  and a crisp, crunchy coating equals… yes, it's the Macaroni cheese scotch egg. Whilst it does admittedly hover on the edge of the deep-fried Mars bar/Oreo-filled doughnut category, it hits all my weaknesses in one cheesy go. It's roughly the size of a head, so best to share.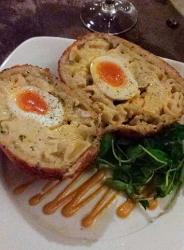 We also had coffee-smoked salmon on toast with vanilla and caramel nuts; delicious fish, enhanced by the hint of coffee but I did question the vanilla with the salmon – Heston may have pulled it off at The Fat Duck, but something here didn't 100% work.
Mains were meaty, generous and delicious – tender, rare duck breast with a light orange sauce and fondant potato, and perfectly cooked steak with chunky, spot-on chips. Dessert came in the form of a chocolate salami – a rich, dark log of chocolate, biscuit and pistachios, served with chocolate sauce. We gilded the lily with salted caramel ice cream; it didn't need it but it was lovely.
Everything was reasonably priced, the service was attentive and friendly, the food delicious and although it was very quiet (Monday) I imagine later in the week it's much more buzzy – a near-enough triumph for Young's.