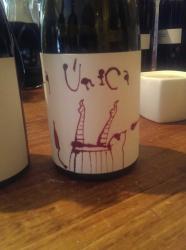 Knowing very little about wine, which makes him honest if nothing else; Nick Harman gets schooled in blending by Felix Solis Wines and even drinks wine cocktails
When was the last time you drank a'table wine' that cost around £95? At home I mean, not at a restaurant where even a bottle of plonk can be marked up to at least half that much. La Unica from Felix Solis wines is a bit pricey and it's a bit of a weird concept; a blended wine that costs as much, if not more, than many a Grand Cru.
It's a mystery to me, but then I am not a wine writer and it's a tad embarrassing to be sitting in front of Félix Solís Ramos, grandson of the founder – Félix Solís Fernandez – tasting it. All around me people are slurping and spitting and making intelligent wine writer comments: 'opening out nicely','refreshing acidity','black olives'. Eh?
Our wine writer Alan should have been here, he reviewed some Felix Solis wines a few weeks back, but he's indisposed and I have been fielded as a sub, encouraged by the promise of some food from Iberica, Marylebone my favourite Spanish restaurant in London ever since it opened.
So I learn that the La Unica blend is Tempranillo grape from three top regions  Rioja, Ribera del Duero and Toro. It's a very good wine indeed and the reason it is classified as a table wine is, as Felix explains, down to Spain's confusing DOC laws.
So who decides the blend? Well you'll be delighted to learn – me. Well not exactly, Felix has brought barrel samples for this year's blend and we, my learned friends and I, are being asked to sample blends and see what we think,' a bit more Rioja',' Less Rioja','up the Toro' etc.
It's a very interesting experiment, I learn a lot about the varieties by trying each of the three'neat'. I reckon I can now identify them in a blind tasting, well perhaps not, but I do see how wine writers train their palates and noses through experience to do just that. The food comes out, which is as delicious as it always is at Iberica, and I drink (no spitting now) my La Unica.  It's rather good, in my now very professional opinion.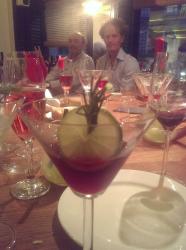 Wine cocktails? Seriously
Now relaxed as can be,  we are treated to the creation of some wine cocktails by award-winning mixologist – Oscar Diez – using a series of international and traditional grape varieties from Spain including the varietals, Verdejo, Sauvignon Blanc, Tempranillo and Garnacha.
They taste very'grown up' one person suggests and they really do, not sweet or sickly but refreshing in a way most cocktails fail to be, for me at least.
'Wine purists will have a fit', I suggest to a very nice wine expert next to me who seems to really know his stuff,'Good!' he replies jovially and has another cocktail.
Maretini
Analivia Rueda Verdejo 2013, Dry Martini, Gin, Top it off with Forest Foam, Rosemary sprig with an Olive macerated in Analivia Rueda Verdejo, stirred on ice and serve in martini glass.
SB Grape Cooler
Analivia Rueda Sauvignon Blanc 2013, crushed grapes, lime, white sugar, crushed ice, garnish with lime slice and grapes.
Sparkling Rose
Arnegui Rioja Rose 2013, sugar cube, tonic, rose petal served in a Champagne glass
Mum
Finca La Meda Toro Rose 2013, Finca La Meda Toro Tempranillo 2013 reduction with sugar, Vermouth extra dry, stirred on ice and serve in Martini glass. (Strawberry fragrance)
Wine Time
Forest Fruit tea infused with Condado de Oriza Ribera del Duero 2013 in a decanter, Gin, Honey syrup mix rosemary. Garnish with lime slice and Rosemary or Thyme sprig. Stirred or rolled. Serve hot or cold with ice in a Tea cup or martini glass.
Granba
Gran Bajoz 2011, Whiskey, Cherry Brandy, Raspberry and Blackberry syrup, bitter chocolate. Stirred on ice carefully, serve with one ice cube and Maraschino cherry on a stick.