5 of New York's best mixologists are assembled at one of the city's favourite bars. Each one is given the exact same ingredients and the exact same recipe and yet they each produce 5 different drinks. This strange phenomenon is why master mixologist Milos Popovic always tastes his mix before serving them. He believes that each pe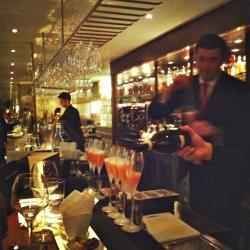 rson mixes a drink differently, and that the result is a unique combination of the maker's physical style and handling of the ingredients.
I can see what he means as I watch the barmen behind the long, sleek counter at Le Pont de la Tour. We kick off the Cocktail Masterclass in style with a Bellini, which comprises white peach nectar and proseco. Because the drink originated in Italy at the famous Harry's Bar in Venice it is of course appropriate to use an Italian sparkling in this instance. With the exception of this nod to authenticity, we are attending a champagne cocktail class.
Comfortably warmed by the blushing Bellini, that was delicate and truly delightful, we move onto something a little stronger, the French 75. Named after a 75mm field gun, this cocktail is not known for its subtlety. Almost savoury in flavour, this is a gin based drink with only the slightest drop of sugar syrup and finished off with a generous slug of Piper champagne.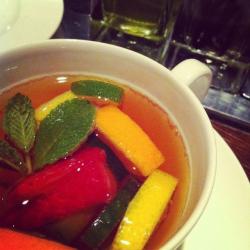 Popovic explains that drink garnishes are for aroma and not necessarily taste. The frosted rims and stems of our glasses were wiped with lemon rind and the piece of twisted peel was finally dropped into the glass. It felt like I was walking through a lemon grove as I lift the heavily perfumed drink to my lips.
Not a fan of fancy moves, Popovic prefers substance over style. He fears a Tom Cruise inspired performance might result in a distracted bar tender and a drink that might not taste as it should. We're served up the award winning Earl Grey Fizz. Gin steeped with the bergamot fragrance of the tea, this cocktail is a little sweeter but just as punchy as the 75. The kind of drink that reminds you of Friday afternoons in summer, when the weekend is just a twinkle in your eye.
The Old Cuban Cocktail, or Mojito Royal is a much softer cocktail, bursting with floral tones from the white rum and mint. Our eye lids are getting a little heavy now in the best kind of way and we start picking at the bar snackst. Slender pieces of deep fried beets, neeps and courgettes are my favourite but I can't help dipping into the roasted nuts and marinated olives once in a while.
We end the night on a high note. Popovic might not throw his bottles and shakers high in the air but he does appreciate the theatre of the cocktail. Dry ice is placed into white teapots full with Pimm's, lemonade, champagne and a touch of bitters. The mint-stuffed spout is steaming like a pot of hot tea. The Special Pimm's Cup is poured into our tea cups filled with sliced pieces of fruit and cucumber. This one's a winner, I've always like Pimm's and this is the way it should be imbibed.
Cocktail Masterclasses at La Pont de La Tour with Mr Popovic are a splendid way to enjoy a Monday evening. A perfect way to enjoy a quiet drink with a friend and learn a thing or two from someone understands the mysterious way of the cocktail
Le Pont de la Tour, 36d Shad Thames, London SE1 2YE. www.lepontdelatour.co.uk