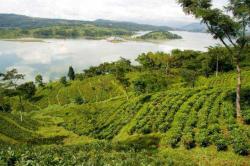 More tea vicar? Yes please.
Anna Hansen, she of the Modern Pantry and an MBE to boot, is serving afternoon tea at her pleasantly Georgian townhouse restaurant in Clerkenwell Square.
Known for her fusion food; lots of spices, colours, freshness and originality, Anna has really excited diners since opening The Modern Pantry so it's no wonder boutique tea traders Lalani & Co have hooked up with her to create a unique taste experience- Tea Growers' Afternoon Tea where the growers present their teas and discuss them too.
We sat down with the Gyawalis, the brothers behind the JunChiyabari estate, Nepal's foremost tea garden, as well as Geert Linnebank, owner of the LaKyrsiew tea garden in Meghalaya, India, to try some exquisite teas partnered with an unusual selection of tastes and cakes cooked up by Anna.
It's serious this brewing. The leaves go into a pot, water is poured on at either 95 C for black teas, 70-75 for the greens, a lid is put on and an egg timer started – 180 seconds, no more no less and then the tea is poured. And no, you don't use milk.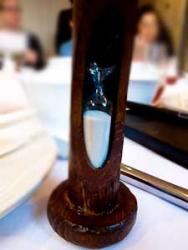 You wait until the glass has cooled sufficiently for you to hold it in your palm comfortably and then like a wine buff take in the colour and then swirl and sniff, sip and snort. Not quite the sort of behaviour for the vicarage, but necessary to really appreciate the brew.
I hadn't appreciated how detail and terroir is vital for gourmet teas. As Geert explained wine grapes are harvested once a year, whereas tea in season is harvested every day and that day's weather, temperature and humidity all matter. They matter so much that the 'lot number' on a packet of tea reveals all these vital provenance details to would be buyers.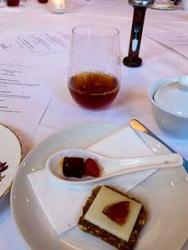 We tried four teas, two from Geert and two from the Jun Chitabari estate. The latter's Himalayan Imperial Black Prestige 2011 most resembled the tea we're familiar with but boasted a subtle smokiness which went well with the Chiyabari Himalayan Imperial Black tea jelly, Ossau iraty, soda bread.
Green tea differs to black tea in that it is unwilted and unoxidised, whereas black tea has been allowed to naturally ferment. The difference is profound, with LaKyrsiew's Green Autumn 2011 smelling strongly of pears and apricots. With your eyes closed this could have been a glass of fruit juice and it's the first green tea from the estate to be released.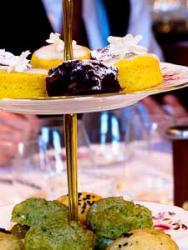 And we went on sampling more black and green teas matched with Raspberry jelly, caramelised white chocolate, umeboshi salt, fresh raspberry, an Orange and almond cake, lemon glaze, jasmine flower, a Sour cherry and rose brownie, a Matcha scone, gooseberry and vanilla jam, clotted cream, a Cheddar and kaloonji scone, Tea smoked salmon, yuzu mayonnaise, avocado and oyster leaf sandwich and my favourite, a Roast tomato, marinated feta, tahini lemon cream and parsley cress sandwich.
The teas teased out flavours the way wine should always do, it was something of a revelation after years of swigging mugs of PG. The fact is that tea has so much more going for it that we realise and this Modern Pantry tea afternoon is a great way to ditch the image of Johnny Vegas and monkey and instead get into something a great deal lighter and profound.