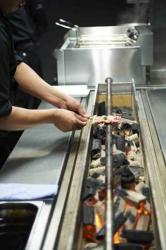 Japanese food via Denmark? Why not? After all we happily lap up their crime drama and snap up the mosses and lichens of the 'world's best restaurant' in Noma, Copenhagen. Can sushi also bow to the mighty power of the Viking warriors? Let's see.
Wimbledon is a post code of two halves. Down by the station proper there's the feel of a suburban Surrey town – lots of lager barns and packs of young people, the girls wearing almost nothing on a Friday night, the blokes showing off like squaddies on leave – and all weaving about.
As you ascend Wimbledon hill though, toward the chi-chi common, it gets better. Oooh look, a Wagamama!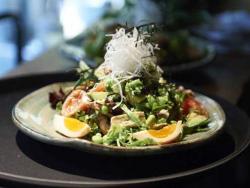 Sticks n Sushi is just past what must surely be their main rival and is dark and unshowy. Massive plate glass windows you can barely see through face the street and inside there's a big black box of a room, stylishly turned out in a way only the design conscious Danish can do.
At the back is the open kitchen where the staff do that Japanese thing of suddenly shouting out in unison. In places like Nobu that cry translates as ' hey more suckers with too much money!' but here with the sharing long tables the prices are much lower and the welcome perhaps more genuine.
This was a shakedown night, none of us were paying and any mistakes were to be accordingly forgiven and noted on feedback forms. I didn't see any mistakes apart from one beef stick that was underdone, instead I saw some really very good cooking, well presented.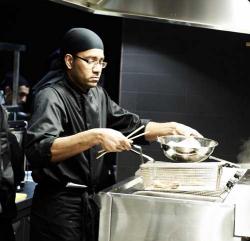 The menu resembles a Next catalogue, pages of cut-out photos and very small print. To say it's confusing is like saying Boris Johnson is a bit posh. It's made worse by there being two menus, one being made up of complete set meals. I'd go for that menu another time, at least until I'd become more accustomed to ordering. The vast selection had me indecisively turning pages back and forth so fast the draught was lifting up the fringe of the girl sat next to me.
Excellent tempura prawn nibbles without a hint of grease as recommended by our rather too effusive waitress – turn down the wattage please – were a pleasant surprise. A selection of Yakitori dishes were, the beef apart, excellent. Prawn and tuna sushi were more than serviceable and benefited from wasabi that wasn't tear inducingly crude, as well as a soy sauce that was the real McCoy, and not the sugary filth so many places try and cut corners with.
We only had these few samples, after all they were free, but certainly enough to make us think that at this standard already, and on average a meal will be around £22 a head, Sticks n Sushi could do very well indeed. They've been doing the business in Denmark for 18 years so are well practised in their art.
Down the road Wagamama's we noted had a big queue. They should enjoy it while it lasts because the classier Sticks n Sushi are invading their business and are armed with sticks, horned helmets and battle-axes.
58 Wimbledon Hill Road,
Wimbledon,
London,
SW19 7PA