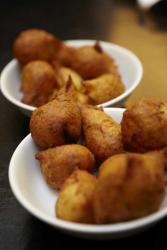 Funny old place Bloomsbury. It's a hinterland between the West End and Clerkenwell and it's hard to know what actually goes on there. Legal lawyerly things I think.
Of course it was once a byword for literary luvvies- lots of limp young men and Virginia Wolf all holding their cigarettes at funny angles and quoting Rimbaud at each other before indulging in complex relationships. Happy days.
Bea's of Bloomsbury is on the main drag, rocked by the passing buses on route to Hoxton and points East. Inside it's two-thirds kitchen and one third cake shop. Tonight the shutters are down and the kitchen is the focus for Rachel McCormack's Catalan cuisine cook up with sponsors Cordorniu Cava.
Cava, like Prosecco, has come in from the cold. It's no longer the drink you give the second division wedding guests while the family knock back the champagne, now it's fizzy you can be proud to leave the label on.
Bruno Colomer Marti the man behind Codorniu was over for the night and tackled the task of introducing each wine for each course with commendable patience and in a charming mixture of English, Spanish and French as we, the audience, shouted out our guesses when he seemed to be stuck.
Gordal olives and Mahon cheese partnered with Seleccion Raventos Brut, a cava originally retained just for the families own drinking. Its Chardonnay aromas and creamy feel go well with the soft cheese and the giant olives. Salt cod 'doughnuts' were a bit more dough than cod, and thus rather filling, but were crisply fried and hard to resist.
I personally loved the Tuna Tartar with Jerez vinegar and mustard marinade on crushed avocado, of course the vinegar posed potential problems for the next cava, Classico 1872 Brut, and some of the wine experts expressed doubts that it worked. I stuck to eating the tuna, a fine fresh fish whose inherent fattiness melded into the creamy avocado well.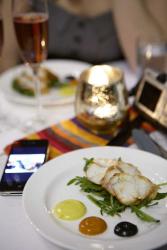 Langoustine style monkfish has an intriguing history. Once upon a time monkfish was apparently considered junk fish and had to be dressed up to disguise it. Hard to believe when you see the price it fetches today. It's a popular dish in Barcelona, yet for me the texture of the fish was more reminiscent of octopus and not langoustine at all, although it did do a good con job visually. A Pinot Noir Rose Brut held up well to the paprika on the fish, a spice that added to the impression we were eating Galician octopus, a dish classically cooked with smoky pimenton.
Ah but the lamb that followed was superb, a herby roast leg slowly cooked to fall apart tenderness and partnered with Escalavida puree – basically roasted vegetable puree and always served with roast meats at Catalonian dinners. Anna de Cordoniu Brut was less acidic than the other cavas, its fruity notes working the same way apricots do with lamb to bring out even more of the flavours and cut a bit of the fat.
And as the crowd grew more rowdy, even at the low alcohol level Cava is cumulative, Rachel whisked out a dish of vanilla ice cream with a mulled wine and red fruits sauce and apparently a recipe from Bruno's wife. He has married well as it was just the kind of un fussy dessert that was demanded after all those clever courses. The Reina Maria Cristina Blanc de Noirs Reserva Vintage 2008 was the creamy extra on top of a rich dish.
It was getting late; Spanish dinnertime is always late. Rachel came out to take a bow and she deserved it, as did all the team. The next day the Codorniu left me with a clearish head and new respect for what fizz can do with food. Don't save it for a celebration, play with it and liven up meals with some bubbles.
Bea's of Bloomsbury 44 Theobald's Road London WC1X 8NW www.beasofbloomsbury.com
Codorniu is available in Tescos and Majestic