Last week i was lucky enough to be one of the food writers asked to cook with TV superchef and author, Rachel Khoo at Clapham's Cactus Kitchens (where they film Saturday Morning Kitchen and yes, I did get the obligatory fangirl photo behind the Saturday Kitchen counter) to test out some of the recipes that'll be featured in her two, brand spanking new cookery shows, which start this evening on the Good Food channel.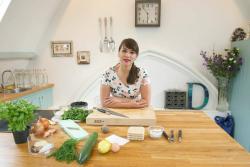 Khoo is as lovely in person as she comes across in the world of TV and, instead of being intimidatingly 'cheffy', is reassuringly down to earth, even to the point of occasionally forgetting her ingredients and letting a few expletives slip out. 
In her latest series, Rachel Khoo's Kitchen Notebook: London, the diminutive Cordon Bleu trained chef has left her little Paris kitchen and been transported to a London venue, before leaving it again to eat and cook her way around some of the best foodie destinations in Europe from Istanbul to Stockholm in Rachel Khoo's Kitchen Notebook: Cosmopolitan Cook. Her recipes are packed with simple flavours, tinged with food memories and touches of culinary nostalgia and often based on ingredients that have been gleaned and gathered from her trips around the world and her heritage.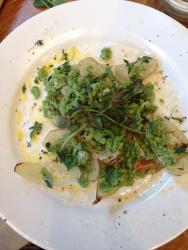 We tried our hands at Spaeztle, light as air dumpling pearls that Khoo grew up on courtesy of her Austrian mother. Khoo's Spaeztle were stained green with garlic and parsley, tossed in bucket loads of butter, Parmesan and roasted onion petals and served strewn with butter-fried sage and thyme and where, in short, heavenly.
Next we were tasked with creating a layered savoury Scandinavian cake called SmörgÃ¥stÃ¥rta, which is almost as fiddly to decorate as it is to pronounce, especially when the loaded word 'competition' was dropped into the mix by Khoo. The kitchen was notably more quiet as suddenly each blogger started concentrating on making roses out of cured salmon and cucumber balls using that most 80s of kitchen utensils: the melon baller. All I remember at the five minute warning point was sticking parsley leaves and cucumber grapes onto the side of my SmörgÃ¥stÃ¥rta and trying to force a beetroot to look like a flower while almost succumbing to a full Bake-off technical bake style panic.
At the moment, Khoo is hanging out in Hackney and getting to grips with the ever changing London food scene, which, as she admits in the video edit below, is a very different kettle of fish to Paris'. You can see the full edit of our inside workshop plus hear Rachel's take on the London's love of pop up fast food and find out who took home the SmörgÃ¥stÃ¥rta crown (if you hadn't manage to guess yet based on my fetching gurn in the above picture with Khoo) in the specially tailored video below.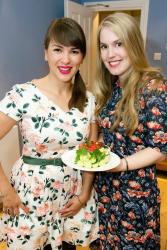 Rachel Khoo's Kitchen Notebook:London kicks off tonight at 9pm on BBC Good Food, followed by Rachel Khoo's Kitchen Notebook: Cosmopolitan Cook at 9.30pm.
{YOUTUBE:4i3AukTaIJQ}