"Aruba, Jamaica, ooh I wanna take ya…" croons Carl Wilson, dearly departed Beach Boy and youngest Wilson brother. The  song floats up the staircase, all steel pans, summer flings and um, Tom Cruise, but as I take in the wonderfully unapologetically kitsch decor that would make Miss. Hawaiian Tropic jealous, it all feels terribly right.
It's Tuesday night, the tail end of a beautiful couple of days in London, and I'm at Trader Vic's. London's premiere Tiki bar opened since 1963, when London's penchant for all things Pacific meant that you didn't have to go halfway around the world to get lei'd. Located underneath the Park Lane Hilton, the restaurant is open till 11:30 pm with the bar not closing'till 1:00 on weeknights and 3:00 on weekends. 
If you're looking for kooky Rockabilly and ironic trinkets, Trader Vic's probably isn't for you but that's what I like about it. If you're out for a straight-up unrepentantly fun Friday night or celebratory meal, it has all the necessities. There's a lethally large cocktail menu featuring the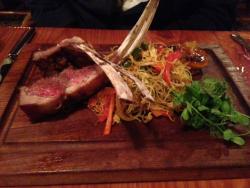 world- famous Mai Tai (an in-house creation dating back to 1944) and a range of massive themed communal cocktails sure to set any party off right, plus a nice range of platters and nibblets.
For comedic cocktails look no further than the Samoan Fog Cutter, which is a forearm sized kitsch dream made with rum, gin, brandy and sherry wine with orange juice and orgeat – potentially very dangerous, but it makes a great snap for Instagram.
When it comes to the main menu, there is a mix of tourist-friendly European and popular pan-Asian dishes, but the undisputed star of the show is the Chinese wood-fired oven. Sitting behind a big ole' glass box that diners can look right in to, the wood oven itself isn't particularly interesting to look at but the flavours it creates are something special.
Starting with a selection Crispy prawns, crab Rangoon, char siu pork and BBQ spare ribs for two, the Cosmo Tidbits platter was an enjoyable taste of things to come. The ribs were sticky and satisfying and the rest went very well with the Canton ca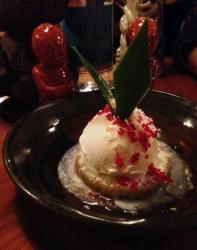 tsup and Mandarin mustard.
Moving on to mains, we both went for dishes fresh out of the wood-fired oven. I had the fire-roasted soy glazed half chicken with Chinese vegetables, which was sticky and succulent but still unmistakably and satisfyingly smoky. The veggies, like the chicken, were soy glazed and sweeter for it and because of the quality and quantity of the chicken it is a dish I would have no problem recommending.
Also sampled was the marinated rack of lamb with Singapore noodles and peach and mango chutney. The lamb was tender and perfectly cooked and the wood-like flavour from the oven created a very pleasant extra layer of flavour. The Sin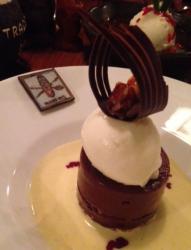 gapore noodles were zingy and complemented the mouth watering texture of the lamb, plus the portion size was generously sized.
Finishing up we couldn't deny ourselves a trip to the grill, so we tried the BBQ pineapple, served with dark chocolate and praline, which was just as delightfully strange as it sounds and, should you be sharing with another, could be a real conversation piece – it was hotly debated at our table and the one across from us.
Chocolate fans should go for the praline parfait: dark chocolate with raspberry centre and coconut sorbet. The dark chocolate was black-hole dark and thick, but lightened and complemented by the refreshing sorbet.
As we left, waving off the numerous friendly and attentive wait staff, we enquired about what the place is like on weekends. Open till 3 am, DJs and live music, always heaving. All that and nice nibbles? Make mine a Fog Cutter!