Corner between 6 Blenheim Street and 1 Woodstock Street, London, W1C 2AA drunch.co.uk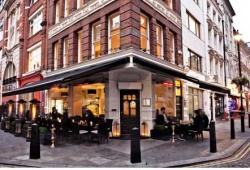 Drunch. It's not quite dinner and it's not quite lunch and Drunch is not quite a restaurant, well perhaps not strictly speaking anyway.
It's not a cafe either, certainly not given its location, but it does sell takeaways and sandwiches and refers to itself as a Boutique Eatery & Lounge, which is a somewhat unusual way of putting things. Dead handy for Bond Street shoppers looking for something fresh and tasty though and it's across the road from Bonham's for anyone who wants a bit of post art refreshment.
J and I don't quite fit either demographic, but wandering back to Soho post meeting it seemed a good place as any to make a pit stop and chew the minutes over. Did the client really say that?
You can eat outside at Drunch but we went in, less chance of passing panhandlers making us feel all guilty, and inside it's fairly innocuous and pleasant. The menu is Modern European, but with definite tinges of the Middle East, which is always fine by me.
They do cold teas; I had a'Hangover' tea, which is a'secret recipe'. It could have done with more impressive presentation for the money (£3.50) and being a bit larger too, but it did actually make me feel a bit better after a morning of lager-induced pain and dreadful remorse.
The menu is a comfortable length for people not firing on all cylinders and offers food that sounds healthy, light and zingy. I dearly love haloumi; here it came in delicious grilled bite-sized pieces with cherry tomatoes and some salted cucumber on the side. There's haloumi and haloumi, but this one spoke of quality and with the cucumber, which could perhaps have done with some more of the salt washing off, made a refreshing mix of a starter.
J had crispy squid with seasonal Szechuan peppers, garlic mayo with sweet chilli and spring onions. I don't quite know what's seasonal about Szechuan peppers, they're semi dried aren't they? But he said it was all good and the prickliness of those peppers had been judged right against the squid, as soft as a politician's handshake.
They say you shouldn't order chicken in a restaurant, unless it's a Nando's in which case you have little choices, because it's a chef's least favourite thing to cook but I did it anyway. Good to see straightaway the breast had a bone in. meat on the bone has more taste every time. It was called peri peri chicken, so there was in fact a Nando's connection but this wasn't anywhere near as hot as they do it, presumably to punch through their customers' atrophied or teenage taste buds. Plenty of garlic though, as everyone informed me later, and good grilled vegetables too.
Salmon Teriyaki with a teriyaki glaze with roast courgette and onion suited J. Cooked enough but no more and the glaze not overpowering. Some places ladle it on so thick you wonder just how confident they are of the fish's freshness, or of their cooking skills. No issues here and it was a lightish lunch dish for a light luncher.
They don't do desserts as such, but cakes from the counter. Which is fine except I cannot remember what we ate and my notes appear to have been inundated with water, or worse, at some point. I do recall though they were perfectly pleasant.
So we did Drunch, a pleasant unassuming place with menu that avoids cliches for the most part and makes you feel a little healthier as you leave. In the evenings you can smoke a shisha outside or get all intimate in the private'living room'. A bit of an oasis in Mayfair.