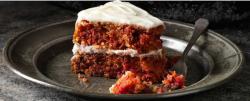 This no fuss recipe is packed full of vegetables for a filling, and nutritious treat.
Cooking time: 30 mins
Serves: 12
Instructions
Preheat the oven to 180ËšC fan assisted/gas mark 6. Beat Lurpak® Baking and sugar until light and airy – approximately 5 minutes. Beat in eggs on a low speed to combine. Fold in the ground hazelnuts, spices and coconut. Finally fold in the vegetables, sultanas, and the seeds.
Divide the mixture evenly between the two pans, or fill the loaf tin and sprinkle the top with more seeds if you like. Bake for 30–40 minutes, or until the top has risen and a cocktail stick inserted into the centre comes out crumby, but clean. Remove from the oven and allow to cool in the tins for 10 minutes before turning out on to a wire rack to cool completely.
When cool, you can spread with cream cheese frosting or top with toasted seeds, fresh fruit and beetroot crisps.
Cream cheese frosting
Beat Lurpak® Baking alone for 2 minutes, then add the cream cheese and beat for another 2 minutes. Add the icing sugar and vanilla and beat for another 2 minutes, until smooth and evenly incorporated. You can add a further 50–100g of icing sugar for a firmer frosting if desired.
Ingredients
400g peeled and trimmed, grated mixed carrots, beetroot & parsnip
1 beetroot, thinly sliced & dehydrated in a low oven (100C for 40-60 minutes, or until completely dry)
90g sultanas
6 eggs
300g caster sugar
300g Lurpak® Baking
500g ground hazelnuts (or almonds) – make your own with blanched hazelnuts, ground for 30 seconds in a food processor
Grated fresh nutmeg & cinnamon to taste
2 tbsp. dessicated coconut
60g sunflower and pumpkin seeds, plus extra for dusting
2× 23cm round cake tins, greased with olive oil or a loaf tin (if using a loaf tin fill the batter almost to the top)Cream
cheese frosting (makes 650g)
125g Lurpak® Baking
200g firm full-fat cream cheese, drained of any liquid
250g icing sugar, sifted
1 tsp. vanilla extract