55-57 EXMOUTH MARKET LONDON EC1R 4QLwww.bonniegullseafoodcafe.com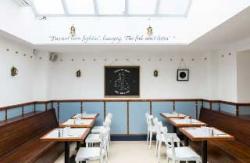 I forgot to ask why Bonnie Gull was so called but I guess now it's a play on "bonny girl" because sea gulls are quite unbonny with their heads like white ballbeads. My guess is, perhaps sweepingly, that it's because Alex Hunter, co-founder of the new seafood café, is Scottish.
Bonnie Gull, which opened last month, commands a large slice of London's Exmouth Market and developed originally from a from a pop-up Seafood Shack in Hackney in 2012.
Hunter says this bigger site has "a more informal 1960s British seaside café feel" and he's right – the washed-out pale blue and white tongue-and-groove décor has a touch of the Atlantic about it. It's the faded glory and romance of seaside towns that he wants to recreate here.
"But not too distressed, we've got enough of that," says the smartly-dressed Hunter (he's no beach hobo) who admits he's not a foodie but has a background in "aviation".
Being from a seaside town myself and avoiding the cafes like the plague, I ask why he chose this theme – did he enjoy seaside haunts as a kid? Apparently he went to Elie in Fife as a youngster and that inspired him and co-owner Danny Clancy to set up a place where the fish is sea-fresh daily and the menu changes according to the catch.
However, the clientele is nothing like I remember at seaside cafes. There ain't no porky Pauline and barking Bill mithering over the price of a stewed cup of tea and bacon barmcake here.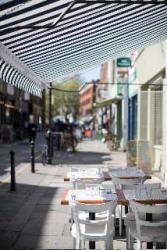 This is the land of the young, wealthy digital media tribe and the place was full of them, chatting animatedly and ignoring the age and wisdom of yours truly struggling to even drink a cocktail, (in this case, a wistful potent fella called Old Man and Sea with rum, apricot liqueur and lime).
Anyway, the standard of food was very good. D tasted his first oyster, an'AAA' Portland Pearl (apparently Bonnie Gull are now the only restaurant in London to serve Dorset Blue Rocks, so they tell me), and loved it. We had Scottish razor clams with chilli, garlic and parsley whose flesh was just slightly cooked, still clammy (sorry) with a delicate flavour. The Dorset crab, avocado, brown meat on beef-dripping toast was robust and worked well.
D's Cornish hake was sublime, coming with a giant tasty courgette flower fritter and laced in honey with goats cheese on the side – an excellent combination. It outshone mine – a perfectly serviceable, but unspecial, grey mullet on crushed peas with rocket, artichoke and cherry tomato salad.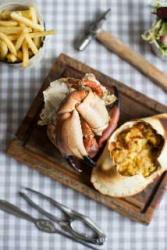 Other dishes included "smash your own whole Dorset cock crab" – which several young couples were attempting as a form of foreplay – and "mum's pilchards on sourdough toast with flame grilled mackerel".
As you'd expect from a seaside café, there were huge ice cream cones with great blobs of homemade whippy cream for dessert, plus sticks of Brighton rock. We just went for St James' cheese, apple and celery because the other puddings looked quite calorific; I know cheese is fatty but it's good for dreams, innit.
The service was very friendly but a bit haphazard – perhaps that's just teething issues and the place overall was buzzing. Bonnie Gull seems to be quite a promising upstart; let's see how high its wings let the beady bird fly.