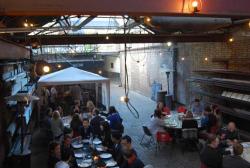 Take a long look at the main picture on Dramandsmoke's website, you're going to need that visual clue if you're not to walk up and down for ages trying to find them, like we did.
It's located in one of those big old yards you still find hidden behind Victorian shops, a yard you just know is going to be on Grand Designs in a few years time.  A graphic artist and his pushy, rude wife, will be smugly telling Kevin how they intend to turn it into a giant living space at phenomenal expense just before their first baby arrives.
For now though it's still a genuine working steelyard with cobbled floor, a tin roof and hoists and metal all over the place. Albert Steptoe could wander in out of one of the mysterious doorways and you wouldn't be all that surprised. It's a good spot for a Scottish pop up, what with Irn-Bru being made from girders and the stereotype of the Scottish working man, and it's a full Scottish menu on offer tonight.
A small cash bar dispenses wine, whiskey and Innis and Gunn beers. A large oak barrel is puffing out smoke as it cooks venison and a small genuinely open kitchen is creating attractive frying smells.
As with all these things it's communal tables, and for those that have come as couples, rather than mob handed as is the fashion nowadays, there's the slight initial sense of being at someone else's party. But it nearly always works out once seated and people relax. It's bit nippy, being virtually open air, but I've been to colder pop ups, and some space heaters do give the illusion of heat if not the actual calories. Haggis bon bons are up first and it's surprising how many people don't know what's actually in a haggis. I'm torn between explaining for their education and not wanting to make anyone feel ill. These are not sliders after all.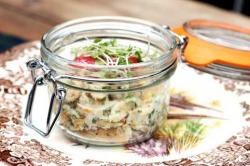 As it happens everyone around me eats one but many politely decline a second, which is great as they are rather delicious with quite a pronounced taste of kidney and a lovely crunchy exterior and I can have seconds and thirds. Some sweet chilli jam, added sparingly, goes surprisingly well with them.
Scottish charcuterie and homemade pickles follow. This has some good'Serrano' and'salami' but the mutton carpaccio is too strong. There's gamey and then there's rank and this lands the wrong side for me. The homemade pickles are crunchy but they seem more like vegetables placed in vinegar earlier in the day than aged for months. Overall not a bad selection from Scotland but I've had better
More palatable for the majority is a third course of potted mackerel. The texture of the fish has come to resemble rillettes, juicy and smooth with a hint of bite. Served in a jar, a recurring theme along with ironic granny's plates featuring illustrations of grouse, game and other Highland pursuits such as voting SNP, it's served with homemade giant oatcakes.
Rough as a Govan docker's accent, these are oaty and crumbly and a perfect foil for the oily fish and this course is a winner with everyone. Cullen Skink comes in a glass, some people expected a larger quantity, but this seems right to me. Smoked haddock, potatoes and onions made into soup, it's pleasantly viscous and deeply flavoured and while I could have happily eaten much more it was wise not to because of the next course.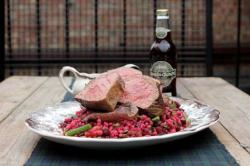 The main event – smoked venison haunch with pearl barley salad and bramble dressing. This is very good indeed, the meat smoked quite lightly so that the aroma isn't overpowering, and the meat is properly still pink. Overcooked venison can be used to resole shoes. Pearl barley adds bulk and the bramble dressing, although a tad watery helps moisten the barley. A complimentary bottle of Innis & Gunn beer with rum helps make me genial. Very good indeed.
And to end, what else but the great Scottish cliché and slayer of men, the deep-fried Mars Bar. Only a piece of one, thankfully, served with shortbread ice cream and Irn Bru. I didn't pick up much of the Irn Bru, but otherwise it was a gloriously sticky end to an evening's entertainment and who doesn't enjoy that?
The high road ends in Vauxhall, give it a go ye southern softies Find out more about the next one by visiting Dram & Smoke's website
Anchor Yard, 4 Durham Street, London, SE11 5JA