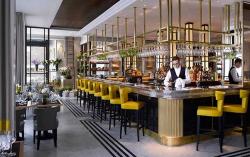 Chef Adam Simmonds has a room full of drinkers and diners and I don't think any of them are spending any money.
This would be a disaster in the normal way of things, but this evening is special. Everyone at Pavilion tonight has been invited as guests and the point is to shake down systems in advance of opening to paying customers on May 30 2014. Flaws will be found, things will be discovered to be badly located, chefs will melt down under pressure and some dishes may not work at all.
There is of course no better way to stress-test a new restaurant. All the planning in the world can't replicate a full-on busy service. The only thing that can't be tested is customer's patience or mood. All of us here know the score and while we may point out any problems, which is the point after all, we aren't going to rush off and write a bad review or give anyone a hard time.
But in fact I see no reason why anyone should. The room is lovely, a 1930-s ish central bar/dining four sided island with the open kitchen facing one side and a Carrara marble deli counter with fifty varieties of cheeses and British cured meats facing the other, it's lit and furnished in a way that makes you think of classic French brasseries. It feels right straightaway. 
Perched on one side on stools, that for once don't need a ladder to clamber onto. We delve into the mercifully short cocktail list, and what cocktails too. I was around in the late 80s cocktail boom and have never recovered from too many Long Comfortable Screws Up Against The Wall  but these aren't naff at all.
Sweet pepper blood Maria, Calle 23 Reposado, Tawny Port, tomato and piquillo pepper consommé, lime, spices and seasoning is absolutely superb. Served in stone jug to be poured over a fist-sized piece of pure ice. This should go on the food menu it's so complicated and delicious.
Swapping to cutlery I eat a perfectly poised roast breast of quail, faggot, shallot purée, sunflower seed granola. The bird is pink and tender, the granola a great textural contrast, the presentation exquisite and the faggot is fun.
Adam, in case anyone has forgotten, is previously of Michelin starred Adam Simmonds Restaurant at Danesfield House. This shows but what is most interesting is the way he has focussed and pared down the Michelin-ism into such compact plates.
L has Salmon Gravadlax, Crab Salad, Pomelo, Avocado and washes it down with a very good Riesling Domaine Mittnacht, 2012 . It's a comfortable, unpretentious way to dine on very fancy food. I follow the bird with fish, Cod'a la plancha', smoked Boston butt pork, sweet cabbage, roasting juices.
Again it's perfectly poised on quantity, a few borlotti beans snuggle against the fish their mealiness absorbing those great juices.  It's just what I love to eat and L is very impressed with her Poached halibut, coal cooked celeriac, pickled onion, Granny Smith apple, truffle beurre blanc.
Adam is taking a short break so I ask him how it's going; we haven't seen each other since I interviewed him at Danesfield House some years ago. He's happy but he's also unhappy; some things tonight have not met his standards and he is going to have words later. Well, that's perfection because nothing I've eaten has been in my view less than excellent.
Back to my eating station to finish with Apple mousse, butterscotch, compressed apple, pine nut purée. Light as the proverbial it means I leave with that rare feeling, that I've eaten just enough and enjoyed every mouthful.
Pavilion, 96 Kensington High Street, London W8 4SG
Opening Times: 7 am – 11 pm
Photos Will Pryce