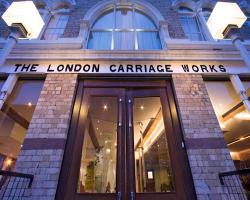 I woke up with lipstick on my stomach the other day. That was an epic night out. True story. I don't mind sharing those details because I love talking. So does Liverpool. They're really friendly and they love food in this city. That's a pretty awesome combination in my mind. Safe to say me and Liverpool are going to be best buds. He may even be my maid of honour.
Everyone's got an opinion in Liverpool, especially on food. Honestly, I'd recommend a pen and paper to take down notes when they talk because there are bucket-loads of unique places in Liverpool. Bucket-loads which the locals want to unload on you, accompanied with directions as though you bloody live in the place. If you want to test out your hot-tips on the locals, one place that always gets a'very nice' response is The London Carriage Works.
Fair play, it's really nice. You'd be chuffed to own a place like this, real class. Elegant, but not dimly lit smug. Bright, wood, glass, touch of architecture flair and unexpected quirks. You can tell it's popular but respected, no huge parties of frat boys, but the room doesn't feel empty or isolated. Everyone's dressed up. Comfortably dressed up, but still dressed up.
Some dude called Mike is looking after us. I say some dude, I think he's the manager, but he's not arrogant enough to make a song and dance about it. I love it when you get good staff that like a bit of banter, it's so much more fun. I even tried pimping my mate out to him, but he wasn't fazed. Fair play. I let him pair the wine. Well done, sir, you've impressed me, now serve me wine.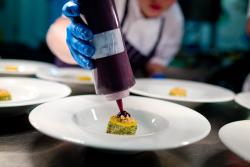 I went scallops for starters. King scallops. Big buggers. Pan seared perfectly, soft inside. There's some creamy earthy flavours from the cauliflower purée and a sweeter red pepper version. Oak smother Southport pork. Obviously. Really good, could even base a starter around that alone. Then some squid ink sauce, which you could bottle and sell immediately, and expertly selected sea herbs. Starter was'boss'.
Assiette of lamb. Sounds like a hobbit. Loin, shoulder and kidney are on display here. The thick loin slices get a hell yeah, the shredded shoulder and vegetable concoctions rock your world and the kidneys are worth the encore. Sweetening a mouthful of lamb works, so go deep on the carrot purée. You'll finish the caramelised onions. That's if you like onions. If you don't, wait, what?! The puy lentils and leeks are almost too much, but it's nice to be spoiled and it's nice to have a full plate.
Sicilian lemon and raspberry tart with raspberry sorbet and sesame tuille. That's the dessert I was presented with after asking for the lightest option on the dessert menu. A tart seems a bit heavy but by the looks of the other desserts, this is definitely the lightest. The sesame tuille adds that extra fancy bit of flair to what is a really punchy tart. The lemon taste is clean and punchy, whilst the raspberry sorbet is proper cheeky.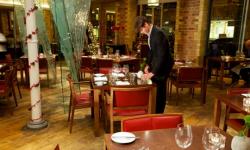 Being perfectly honest, The London Carriage Works is a safe-bet when you're in Liverpool. There are restaurants in Liverpool that push the boat out more in terms of creativity, but they don't have the elegance and sophistication of The London Carriage Works. This place does excellent food, served in a classy restaurant in the trendy part of the city. There are no fireworks coming out of dishes or dry ice billowing on to the floor, but you can still get a fake tentacle coming out of a certain cocktail. It's a must-visit if you're going to Liverpool.