A Cooks Kitchen, Dunkertons Cider Mill,Leominster, Herefordshire www.acookskitchen.co.uk
If you go down to the most rural backwater of Herefordshire today, you'll probably be surprised by A Cook's Kitchen. Situated in the enormous barn at Dunkerton's Cider Mill and down the most crooked of country lanes is the manifest dream of a young couple, Bonnie and Tom.
Bonnie was a waitress in a cocktail bar – OK, not quite. Bonnie was front of house at River Cottage in Devon while Tom was a sous chef at the same place. But both hankered for more so upped sticks in late 2010 to open A Cook's Kitchen in April last year.
Bonnie and Tom! What idyllic names for such a country idyll… and much like The Good Life's Felicity and Tom, B&T are a wholesome double act, serving up seasonal, locally sourced produce, in this case from Herefordshire rather than Surbiton.
With no advertising budget, the young couple has built up a loyal client base through word of mouth only, employing few staff and working as many hours as possible.
When we arrived,shivering from a freezing drive, the hangar-sized barn in which A Cook's Kitchen runs from was warm and welcoming although just emptying its lunchtime crowd. The space is quite awe-inspiring with its ancient timber beams.
We got to work on the food immediately, curled up by the fire in a corner. The menu normally changes every day but we were trying the winter menu, bits of which will survive the season.
Winter roulade with celeriac, parsnip and sweet potato was chunky and well-textured with pure rootish flavours, the braised sweet cabbage uplifting the gaminess of the gravy.
The pheasant that I had had been shot a week ago at the local Eardisland shoot, they tell me, and hung since then to mature. It was firm with maroon flaked meat and was pleasingly gamey in parts and accompanied by a very buttery swede puree; Tom is a dab hand at purees although he confesses he prefers doing a daily changing menu and the winter menu has meant that he is aching to vary the purees.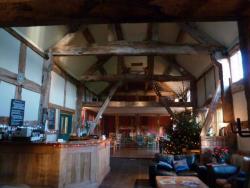 My dining mate had a watercress and a shallot puree, the watercress being excellent and fresh. My sprouts, however, were a bit over-sautéed.
Tom, who trained under Jean-Christophe Novelli and Marco Pierre White, describes the food as northern European, using local English produce, although he is classically French-trained.
He says one irony of his culinary profession is that from working with select cuts of meat in posh London restaurants, he now butchers the whole animal in the back of his spacious kitchen.
To finish, we enjoyed the home made ice-creams. The wonder was the rum-soaked raisin ice-cream, which was very alcoholic-tasting and slightly tart. And then we traipsed off to the neighbouring barn to buy loads of local cider, which we tragically left behind in our B&B. Never mind, hopefully there'll be another backwater to happen across soon, with other sweet surprises.