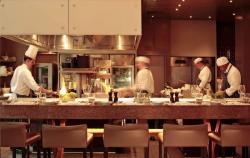 Bodegas LAN and the chefs at Hyatt Regency London – The Churchill have together created a collaboration that combines seasonal dining with traditional Rioja winemaking.
Chef de Cuisine Carlos Machado of the The Montagu restaurant is, as he semi-apologetically told us, actually Portugese but he seemed to have his team well drilled in the Spanish way when we sat at the Chef's Table overlooking his open plan kitchen.
The menu pairs the 'La Rioja" region wines of Bodegas LAN, from the flagship Vina Lanciano Reserva to the recent high-end Lan Edicion Limitada, Bodegas LAN using its blended oak barrels technique – mixed wood barrels with staves of American oak and heads of French oak – with a five-course family-style variety of traditional Spanish tapas and main dishes.
A Gazpacho with Prawn Skewer was a tall glass of tasty fresh tomato with the prawn semi-comically up-ended in it, as if it was doing a Houdini escapology act, while Padron Peppers and Toast with Salted Sardines was a trifle difficult to eat, the sardines a bit clumsy and they could have done with having their tails lopped off.
Honey-roasted Vegetables and Toast were a decent option for veggies and Spanish Blood Sausage (morcilla) with Poached Quail Egg was very good, although personally I'd have preferred Morcilla de Burgos, which contains rice and so is a stiffer contrast to the soft egg.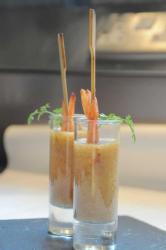 Pulpo a la Galega – Chunks of Octopus Marinated with Sweet Paprika and Olive Oil – is a classic Galician dish, normally served on a wooden plate and I've eaten it lots when out there. All I'd have done to improve the dish would have been more generous with the paprika, although erring on the safe side was probably a good idea in this kind of environment.
Of course you have to have jamon at any Spanish feast and The Iberian Ham carved on the counter and served with Toasted Bread spread with a tomato paste was good stuff – plenty of fat and a good disssolve on the tongue to reveal a sweet nuttiness. The pjgs eat acorns almost exclusively of course, as laid down by law. The Crispy Seafood and Ham Croquettes managed to pull of the difficult trick of being solid enough to eat whilst still being crispy and creamy, and I could have eaten a lot more if not saving space for the Lobster Stew with Spanish Rice with Herbs, Green Peppers and Spices.
It's always hard to get into a lobster without splashing about messily, but the sweet meat here repaid the effort and my dry cleaning bil. The rice, of the correct short grain type, was nicely al dente and well flavoured from its stock, but suffered from a bit too much salt. Not meal threatening, but a little heavy-handed all the same and chef should watch whoever is on rice duty to make sure they don't do it next time.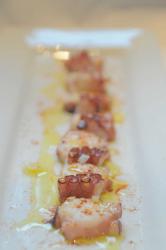 Orange Sorbet Dripped with Liqueur 43 was a sharp little palate cleanser and got us ready for Secreto de Cerdo con Trompetas de la Muerte y pure de Romanescu. This fine cut of pork used to be kept by butchers for their own personal use and it had been seared well to get in some great smoky flavours. The 'death trumpets', I believe called less graphically Horn of Plenty in the UK, were slippery, meatt and bosky, and just a weeny bit gritty too unfortunately, but paired well with the meat and the light Romanesco puree that came with it.
A selection of traditional Spanish desserts rounded us off -Catalan Crème Brulee, Almond Cake with Custard Filling,Slices of Toast, Soaked in Sweetened Milk and Vanilla with Baked Apple Ice Cream, AHot and Sweet Rice and Milk Pudding, Fresh Strawberries served with Cream
And what of the wines? I'm no expert but I enjoyed them all and it was interesting to compare like for like seperated only by a few years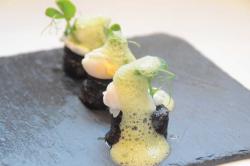 2010 Albarino Santiago Ruiz, Rais Baixas had lemon, apple and peach fruit notes while the 2006 Rioja Crianza Bodegas LAN had plenty of cherry, spice and especially licorice.
2005 Rioja Reserva Bodegas LAN had a waft of wood smoke, a hint of the spice box and even espresso and blackberry. 2004 Rioja Gran Reserva Bodegas LAN was deep cherry-red colour and the intense aromas rdrew back to reveal an elegant and well balanced wine in the mouth.
Finally a 2005 Rioja Reserva Vina Lanciano Bodegas LAN aged in both French and Russian oak, was a complex job as you might imagine with those two oaks at work, inviting nose of earthy minerals, floral notes, balsam wood, tobacco, blackberry and plum.
Overall this is a fair old stab at Spanish cuisine from a hotel kitchen which has to simultaneously serve the standard menu to guesrs. You don't get the instinctive cooking you'll get from someone like Cesar Garcia at Iberica or Jose Pizarro but the marvellous wines make up for any small shortcomings. For the money it's a fun night out for a small group and a rare chance to see how a kitchen works when the heat is on.
The Bodegas LAN Chef's Table launches will be available until 9 April 2012. The Chef's Table seats five to nine people and is available at lunch or dinner throughout the week at GBP 55.00 per person for five-courses, including Bodegas LAN wines. An optional 12.5% service charge will be added to the bill.
The Chef's Table can be reserved through The Montagu directly by telephoning:
+ 44 (0) 20 7 299 2037, or emailing montagu.hrlondon@hyatt.com.