Fresh fish all the way from Cornwall to SW16 and so perfect we couldn't do better if we lived by the sea ourselves instead of by the Brighton Road. We take delivery of a consignment of Cornwall's finest courtesy of Fish for Thought and seek out some great recipes to make the most of them.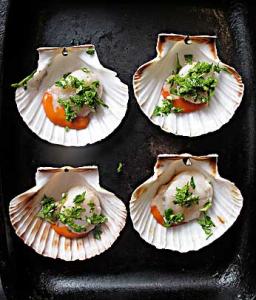 For a country surrounded by water, we're not great fish eaters. Our grandparents were different, of course, they took it for granted that there would always be a fishmonger in every high street and that fish would always be cheap and plentiful. Mind you they also fell about laughing at Tommy Trinder's jokes and didn't seem too upset about being bombed either.
Somehow it all changed, perhaps not so much as a result of the end of the Blitz but with the rise of convenience foods. The mother unwilling to do more than slam a premade kids' meal in the oven is unlikely to want to gut and clean a fish.
And so now all we have is the wet fish counter at the supermarket where a measly selection of fish gazes blankly back at us through eyes that lost their lustre many hours, if not days, earlier. Ask the 'fishmonger' behind the counter to gut and clean a fish for you and he will sigh heavily as it means washing his hands (he also works as 'the butcher') and putting his blunt knife to work to bugger up the seabass that's costing you a week's wages.
There is an alternative though and that is the online supplier Fish for Thought The company catches fish in Cornwall's waters then delivers it straight to your door and their commitment to sustainability and ethical fishing means they were the first to be awarded Marine Stewardship Council status.
Customers specify on their order whether they want the fish to come whole, headed and gutted or filleted and portioned.
Well personally I've never been all that good at gutting so we ordered up a selection ready to go – four scallops cleaned, but in their shells, some king prawns, a lobster and two seabass fillets.
The next day a knock at the door revealed a man with a Styrofoam box full of seafood and a big bag of ice. The ice had barely melted so clearly the package had made the journey refrigerated all the way. All we had to do was unpack and shove in the fridge.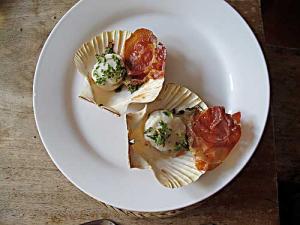 Now what do to with such fabulous fresh fish? The scallops and the seabass fillets were uncooked, the lobster had been cooked and handily split for us and the prawns had also been cooked and had some of their whiskers trimmed.
After some thought we decided to cook the plump scallops according to a recipe in Jose Pizzarro's excellent book Seasonal Spanish Food, Nice and simple it involved just loosening the scallop and coral from the shell then putting them back in and dusting with a mix of chopped parsley, some slivers of garlic and chilli, lemon juice and salt. Then they went into a hot oven for eight minutes while we pan-crisped some Jamon Serrano in olive oil.
Coming out the shells were too hot to handle, but the scallops were perfectly cooked. The garlic/chilli mixture pointing up the natural fresh scallop flavour but not drowning it. The crispy, salty Jamon was a marvellous addition. Rough bread sopped up the lovely juices. Time for the next course, the lobster.
This time we turned to Valentine Warner and his somewhat aggressively titled book What to Eat Now. After wading through some long-winded story about how some Sloaney girls of his acquaintance had once been scared half to death by some live lobsters they had tried boiling, we finally came to a simple recipe involving home made curried mayonnaise and melon.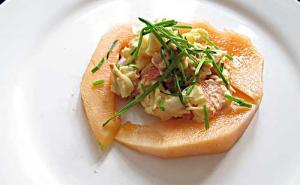 The lobster comes pre split, so all that was needed was to lever the meat out of the tail and crack open the claws in order to get the meat out of them. We discarded the head's icky bits and boiled the shell for stock for the next day, the meat we coated gently in the mayo before serving it on the melon garnished (as they say) with chopped chives. It was sweet and delicious and the slight tang of curry powder was a bit Proustian, reminding us of 1970s curries in Croydon.
And so to the Seabass fillets. These were so fantastically fresh it seemed a crime to do anything to mask their flavour, so we didn't. Seasoned on the flesh side only, they hit a red-hot frying pan skin side down. The trick here is not to move the fish for at least a minute, if you do the skin will stick to the pan and you'll lose it. Instead wait until the skin crisps up and naturally lets go of the pan. Then turn the fillets over for another few minutes. Prod them with your finger to tell when done.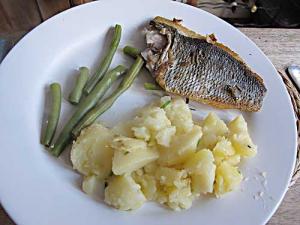 Served with simple steamed potatoes dressed with chives and fine Ligurian olive oil and fresh beans, the fillets were a fine main course. The prawns we ate the next day for Sunday lunch, dipping them into mayonnaise accompanied by a salad of fresh leaves from our allotment.
Oh and we drank Fetzer Chardonnay, a very good partner for ethically sourced fish as Fetzer is as green as painted field of grass.
To catch your fish for a weekend treat:
How to order
Visit www.fishforthought.co.uk, and select the fish or seafood you would like.

Minimum order spend is £25 plus standard delivery charge £7.95. Free delivery for any orders over £100. Orders are dispatched on Tuesdays, Wednesdays and Thursdays.

To guarantee freshness, no fish is dispatched on a Monday