119 Brockley Rise, London SE23 1JP www.babur.info
'Worth making the trek across town for.' You know what that means? It means 'located in South London.' Why do so many reviewers assume their readers all live in North London just because they themselves do? Why do they make readers feel that when you cross the Thames heading south the map might as well be marked 'here be dragons' and illustrated with drawings of 4x4s being consumed by sea serpents?
Honestly it makes me mad, as perhaps you can tell. After all I don't regale friends with tales of how I bravely set off from SW16 to N1 to do a review armed only with a small backpack, a can of liberal-repellent and a Ray Mears survival handbook do I?
Babur is, as you may by now have guessed, in South London, in Honor Oak to be exact. So close to Canary Wharf the towers seem to loom over the area and now, with its new transport links to excitingly bohemian places like Hoxton, it's becoming highly desirable with its leafy streets and large Victorian villas. No doubt the local estate agents are already saying exactly that in their sales literature.
Babur, an Indian restaurant, has been here 25 years this year and is understandably celebrating. Much has changed inside, the décor is modern and cleanly comfortable and the kitchen has moved with the times. This is now very contemporary Indian cuisine indeed, artistically presented, innovative, exciting and as good as any Michelin starred Indian 'in town' but at half the price. Yes really, I kid you not.
Take the 25th Anniversary tasting menu. It's £32 50 for four courses; £44.50 if you have the matching wines by the glass and you really should because they've been very well chosen.
Not a poppadum in site as we sit down, which is sort of a disappointment, the ritual of slopping chutney over the tablecloth and fighting for the last fragment is an integral part of the Indian experience surely? Never mind, a starter dish of steamed monkfish with ginger and garlic in banana leaf served with a nutmeg potato cake and mango chutney jelly takes our mind of that. The little cake has silver foil on it and mindful of terrible teeth-jangling experiences in the past I start to lift it off. No need assures the waiter, it's edible silver, a little bit of decoration to celebrate Babur's Silver anniversary.
The firm monkfish benefits from the delicate flavouring injected through it by the steaming, the cake is delicate with its husky nutmeg. The sweet jelly works with both. It's a finely judged prelude, chilli absent but presumably waiting in the wings flexing its fiery muscles.
Ah Guinea Fowl, the chicken that went to Eaton. This beauty of a breast has been given a roasting in the tandoor after being marinated with no less than 22 spices. That's probably about 20 spices too many as it seems unlikely anyone could taste them all, nonetheless the result is excellent. The fast cooking has allowed the meat to remain moist and the wild mushroom kedgeree is, in its woodland boskiness, just the right accompaniment. A good stand in for the ubiquitous basmati it has a moistness and chewiness that melds with the meat. Oh and the chilli has now tippy-toed shyly onto the stage, subtly attracting attention at the end of each mouthful.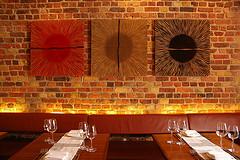 With a bound the chilli hits the plate running with Kid Goat lal maas served with a neck meat patty and ghee rice. The leg meat of the lal maas has been clove-smoked and then pricked with both black and green cardamom plus the earthy spice of cumin and cinnamon. The chilli is from Rajasthan – it hits hard then pleasantly drifts away like gunsmoke, its job well done. Undoubtedly this is the best dish out of three outstanding ones.
And so to dessert, a tasting plate of Chocolate and peanut pave, a guava kulfi popsicle (great fun) a banana compote and a filling-tugging, brittle of black sesame and fennel seeds. The last is a bit too hard to eat completely, but a small bite lets the aniseed taste of the fennel waft across the palate.
It's a very good meal deal and the menu promises more treats such as black leg chicken, tamarind glazed quail breast and welsh lamb. There's even rabbit and buffalo from Laverstoke Farm. The Sunday lunch looks wonderful so stuff your roast chicken.
Yes it is 'worth making the trek for' (sic), because this 'obscure part of South London' (sic) has a jewel in its crown with Babur. Strap on your hiking boots, write your will, make peace with your relations and venture forth to South London. For those of us lucky enough to live here, there's even less reason to discover how truly grim it is up North.