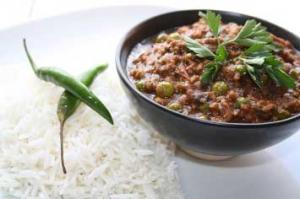 I really love Indian food, rich with spices and unique flavouring, every corner of this beautiful country offers its own unique take on food using whatever is local to the region. With so many different types of dishes from the north to the south of India, there is something to please everyone and of course we all have our own personal favourite dishes.
Keema Muttar is one of my favourite dishes and features on takeaway menus up and down the country. 'Keema' means minced meat (always lamb) and 'muttar' are peas and together, with an earthy blend of spices, they are transformed from two humble ingredients into something rather more special. It's time the takeaway flyers were ditched and we started making our favourite dishes at home, which is why I felt compelled to share this wonderfully delicious and economical dish with you.
Ingredients
450g of minced lamb (use beef if you prefer, but lamb has a lot more flavour)
150g of peas, fresh or frozen
1 large white onion, finely chopped
4 fat cloves of garlic, minced or finely chopped
6 inches of fresh ginger, finely grated
2 green chillies, finely chopped
2 teaspoons of turmeric
½ teaspoon of cinnamon
2 teaspoons of cumin powder
2 teaspoons of garam masala
2 teaspoons of mild chilli powder
2 teaspoons of curry powder
4 ripe tomatoes, quartered
A handful of chopped coriander (optional)
Cooking oil
Boiling water from the kettle
Serving suggestion: Basmati rice, Naan bread or a jacket potato
Method
In a preheated deep pan or cooking pot on a medium to high heat, add some cooking oil and fry your onions for about 5 minutes, before adding your garlic, ginger and chillies and mixing well. Add all your spices to the pan and incorporate well into the onion mixture, adding a little more oil and also half a cup of boiling water from the kettle and stir really well until the water has absorbed (which should be quick)
Add your mince to the pan and turn the heat up to high (or medium high if you use gas) and fry your mince until the meat is cooked through and the spices are well mixed in. Then add your tomatoes, squashing them as you add them to the pan and keep stirring the mixture for a few minutes, before reducing the heat to medium, adding another half cup of water and covering with a lid and allowing it to cook for 15 minutes. Stir the mixture every 5 minutes to prevent it sticking.
Now all you have to do is decide how you want to eat it, my favourite way is to enjoy it with a bowl of fluffy Basmati rice but Naan bread or a jacket potato are also great accompaniments for this delicious Indian classic.