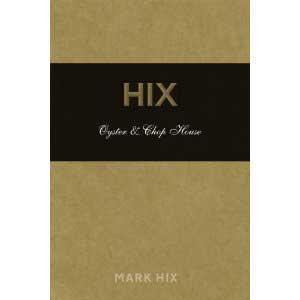 What have we here? A new recipe book from Mark Hix, he of all the restaurants strewn around London bearing his name and the chef most beloved by 'blokes'. Not for Mark the pansy hand of fusion, the effete mannerisms of molecular gastronomy. He's the prop-forward of seasonal cuisine, always ready for a ruck, a maul and a singsong with the critics in the showers afterwards, while trying to stitch his ear back on.
Which isn't to say he isn't any good, far from it. If you like your food no fuss and manly then Mark is your man and at the Oyster and Chop house, located in the spiritual home of such food, Clerkenwell you'll find his style and philosophy at its apogee. British produce well to the fore, meat on the bone to give blokes boners. Oysters in Dickensian profusion, Mark's own smoked salmon on the plates, British cheeses to end with.
So if you can't make it to his House, here's the next best thing. First though shuck your oyster. We have a great variety of oysters available in the UK and Mark takes us through them all, the Colchesters, the Duchy of Cornwalls, the Maldons, the Merseas, the Lindisfarnes, the Loch Ryans, the Portland and the Brownsea islands. Bet you hadn't heard of half of those? Chances are you live within distance of at least one variety though and given their high prices in restaurants, it's well worth eating them at home. Mark tells you how to open the little lovelies the usual way, but if I may add a tip? Get one of the oyster 'moulds' available. They hold the oyster firmly while you get to work with the knife – no more wasted precious juices, no more trips to A&E with a gashed hand wrapped in a bloody tea towel.
Nothing Mark does is complicated, so everything in the book is achievable. The ingredients, oysters apart, are reasonably priced things such as mackerel, haddocks, mutton, and coley. Mark sings the praises of the onglet or hangar steak, a cut that needs to be served rare but which repays the fight you get into to enjoy the slightly tough meat, with flavour you will never get from a fillet. He's a big fan of oxtail too; cheap meat that needs a long stew but which is gloriously gelatinous and rich at the end.
This book follows on from his award winning British Seasonal Food of last year and has excellent photographs by Jason Lowe – apparently it is a legal requirement to use Jason, it must be because 99% of recipe/food books do. It is, as usual, a timely antidote to all those cook books you can't cook from and Mark's honest approach to his trade is refreshing.
You'll find pictorial guides to all the cuts of meat available nowadays and great ideas for menus -Starters, Soups, Fish, Meat, Desserts and Cocktails. It's a shame the book's designers have opted for a faux hand-written font for Mark's chapter intros, that and the busy page backgrounds can make them hard to read, but otherwise this is a book you'll want to own and use regularly as the seasons turn.
{ISBN:1234567890}