The Raymond Blanc Cookery School, at Belmond Le Manoir aux Quat'Saisons has a new course on offer – making creative canapés. Danielle Woodward spends the day learning how to create delicious dinner party treats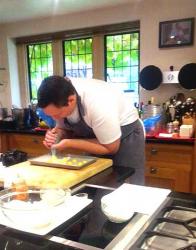 Canapés are little works of art that serve to impress your guests, giving them something to munch on while socialising and sipping fizz; they are little amuse-bouches to take the edge off hunger until the main event. Or, if you're just having a drinks party, your canapés should be the stars of the night.
You need to have a few tricks up your sleeve; some impressive-looking but easy-to-make options that won't have you breaking a sweat (never a good look on a host), or quaffing all the bubbly yourself because you're too stressed so you greet your guests in a drunken stupour.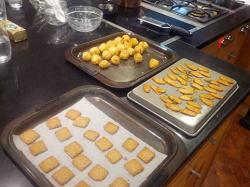 The Creative Canapé course at Raymond Blanc's cookery school, has the answer. Chef Mark Peregrine and his team welcomed us to the smart, gadget-packed two-star Michelin kitchen, where we took our seats around the island as Chef Mikey talked us through what he would demonstrate.
First were choux buns; the base for the chicken liver parfait and mango chutney canapé. We watched as he mixed together all the basic ingredients (water, milk, butter, salt, sugar, flour, eggs), then filled a piping bag and piped small, delicate circles onto a baking tray. (My attempt looked more like flat pancakes; I must practise my piping.) While they were in the oven, we made the oat biscuit base for the goat's curd and olive canapé. A basic digestive biscuit recipe with wholemeal flour, the ingredients were mixed and placed in the fridge to firm up before cutting into squares and baking.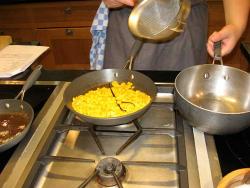 Chef Mikey shared his wisdom along the way: avoid processed foods because you never know what's in them; milk is a low-fat product and 'full-fat' milk only has 4% fat so it's been marketed completely wrong (hooray!); opt for pure butter over manufactured options as it's the most healthiest choice for our bodies (although he admits most chefs use butter with 82% saturated fat for flavour), and season with cayenne pepper instead of chilli, dipping in your finger and flicking from above to ensure even distribution.
Before we got started on the toppings, we made parmesan and rosemary popcorn, cooking the popping corn on the hob, and pouring over rosemary-infused butter, sprinkling with parmesan and cayenne for a kick. Then came the chicken liver parfait. This I found quite involved, as you needed to create a reduction of port, madeira, cognac, shallots and thyme, then stir this into the liver. To be honest, I'm not sure if I would bother doing this at home, but it did taste wonderful. We piped this into our choux buns, topped with mango chutney – a more straightforward recipe of blanching the mango and mixing with spices, lime juice and sugar.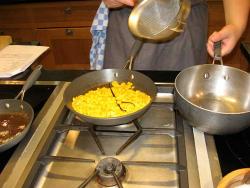 Next, we watched Chef Mikey prepare the salmon tartare, rubbing it with salt, sugar, lemon zest and dill, chopping it finely and making a tartare from Dijon mustard and lemon juice. This was topped on a blini with a dollop of crème fraîche, avruga caviar and dill, and it looked (and tasted) fantastic.
The goat's curd was mixed with lemon and whipping cream and added to the oat biscuit with a drizzle of honey and sprinkle of dried olives over the top – this was my favourite canape flavourwise, as the salty cheese and olives meeting the sweet biscuit base and honey drizzle was a perfect combination.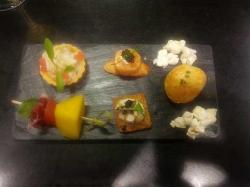 We proudly admired our eye-catching canapés, presented on a slab of slate before devouring all our hard work and returning home clutching our recipes and framed course certificates, eager to recreate them again – better get practising before the festive season.
Le Manoir offers one-, two- and four-day courses, as well as children's courses. Visit www.belmond.com/le-manoir-aux-quat-saisons-oxfordshire/raymond-blanc-cookery-school
The canapé course costs £185 per person and the next courses are scheduled for 25 November and 9 December.