Somewhere along the line, afternoon tea became less of an occasional treat of the ilk that was popularised by the 7th Duchess of Bedford back in the 19th century and more of a, well, for want of a better word,'thing'.
Nowadays, the uber trad treat has turned into a thematic foodie experience with an infinite number of variations on offer, from all chocolate affairs like the Charlie & the Chocolate Factory version at One Aldwych to low fat incarnations such as the Intercontinental London's Guilt-Free tea. There's even a tea you can take while driving around London aboard a vintage bus. I know this, because I've tried it.
The Arch, however, is trying a different tack. This lovely little Georgian-with-a-facelift hotel in a quiet residential street tucked away from the roar of Marble Arch's notorious traffic jams has given it's afternoon tea some edge with an international accent and a street food vibe.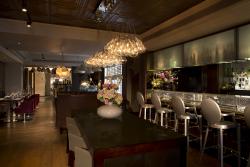 I visited late one Friday afternoon, settled into the curve of one of their restaurant's hard-to-leave chocolate leather couches (complete with oyster-grey velvet curtain…in case you fancy sipping your tea in private, I suppose) and worked my way around the world with their afternoon tea with a twist (£29).
The cocktail list here (which you can add to your tea to take the price up to a rather steep £38) is brief but well formed with a seductively delicate thing called Indian Clouds on it, which I discovered combined Jasmine tea infused Bombay Sapphire and butterscotch schnapps with pink grapefruit juice to create something that tasted like sweet, summer rain.
The teas were also excellent, with a Silver Needle white blend that lingered with hints of melon and cucumber and deserved a special mention. The tea itself arrived all at once on slender wooden blocks of sanded wood and, for a split second, I thought they'd delivered canapes instead of tea, so accustomed was I to seeing a tiered cake stand.
Instead of the usual sandwiches and scones, I was delivered smoked chicken, chilli, avocado and mango tortillas; mini handmade scotch eggs with Piccalilli; skewers of chicken satay; mini fish and chips with tartar sauce and that stalwart of the business away day buffet: mini cheese burgers with onion marmalade in brioche buns.
The baby portion of fish and chips was rather good, as was the just-sharp-enough tartar sauce and the ridiculously good scotch egg with its molten yolk middle. Any place that can serve a well-cooked, runny egg-centered scotch egg on a mass scale gets a tick from me. Another standout was the poshed-up chicken select – a nugget of sesame seed covered chicken with it's jammy slick of surprisingly fruity satay sauce.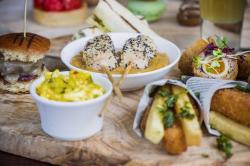 The burger was perfectly pleasant, even if the edges of the bun were so dry and chalky that the overall effect was of stale burger bread than soft, buttery brioche and the tortilla was fine, if lacking in enough punchy chilli or flashes of coriander for my taste. The trouble with creating a tea that's designed to give guests a taste of foods from around the world is that chances are, some of your guests will have eaten something similar on their travels, and will be expecting as much authentic flavour as possible, instead of a watered down version.
The sweet tray was laden with sugar-rich treats from spearmint green chocolate macarons and crispy little coffee-rich eclairs to teeny-tiny raspberry and pistachio tartlets with golden pastry that snapped and crumbled into buttery perfection.
The little fried doughnuts that were perched on the edge of the platter delighted and frustrated me in equal measure. They were featherlight and dusted with just the right amount of sugar and cinnamon. At the first bite they exploded and oozed sharp-sweet globs of applesauce that dropped onto my plate and pooled into an unctuous, sticky mess. All lovely, but I couldn't help but wonder how much more lovely they would have been if they were served hot. Perhaps they were warm when they arrived alongside the savoury platter…I'll never know.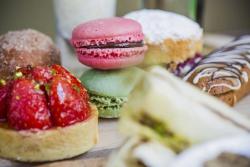 Another cold clanger for me was the rice pudding with toasted coconut. It came rich with coconut cream and layered between chunks of soft, sweet ripe mango in an elongated shot glass, which was all very nice. However, I'm of the mindset that rice pudding should never be served anything less than hot enough to slowly melt the sugar you sprinkle on it into caramel. No matter how well balanced the flavours are, all I'm going to taste when I ladle a sad, chilly spoonful into my mouth is Dickensian gruel.
I finished my tea with the final piece of the tea puzzle, The Arch's only curiously conspicuous concession to tradition – a miniature victoria sponge. It was a little dry, a little dense and a little, well, sad among the splendor of its internationally-influenced companions. At this stage the cake here just feels a little like tradition for the sake of it and it would have been nice to see a little of the creative flair applied to the rest of the menu make it into the cake, perhaps a touch of lychee or a rose-infused fruit syrup, at any rate, something to give it a bit of welly would have been well received.
An intriguing, if not without its flaws addition to the thriving London tea scene.