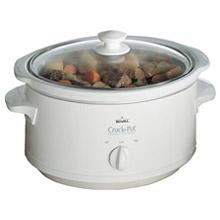 I've always had a soft spot for the slow cooker. When I packed my trunk and headed not for the circus but for university in the dark days of the late 1970s, my mother added to my weight problem (my suitcase not my waistline, that came later) by insisting I take the family slow cooker with me. Luckily she didn't persist in trying to make me take the family pressure cooker as well or dad would have starved.
And so while others in my shared house were unpacking their 'stereos' and looking for places to put the speakers, I was trying to find space in the kitchen for the slow cooker which was generally regarded as 'weird man'. All negative comment stopped when I began using it though.
The point of a slow cooker is twofold. Slow cooking makes cheap cuts of meat tender and slow cookers can be left pretty much to themselves all day. This means that you can come home to a hot meal with tasty aromas filling the house, and in my case back then, drowning out the aroma of Mark B's waccy baccy, which he grew in the attic under arc lights until the police came round questioning our power consumption.
And on that subject, slow cookers use little power, about as much as an old style lightbulb. Because the lid is a good fit the moisture of the cooking condenses out and falls back in so there is no danger of it drying out over the course of a day and the low power means no danger of burning or boiling over.
The only hard bit is frying off the meat. If you don't do this then the meat lacks colour and texture at the end of the process. Frying meat isn't in itself hard, it's just not really something you want to be doing at 7:30 in the morning as it tends to put other people off their cornflakes.
That done though and with all the other ingredients added, you can whack the lid on and go off to work or in the case of students, go back to bed.
Crock-Pot, the original slow cooker people from the 1970s, are promoting the joys of slow cooking casseroles, pies, puddings and more. They have two new crock-pots; the Cook and Carry, that's designed to be mobile with a thermal carry bag and with enough capacity to feed 7 people, and the Two Person Crock-Pot, which is handily sized and has a 'keep warm' function.
If you've never tried slow cooking, this little beauty is a good place to start your education and one to give anyone about to go to college as it weighs a lot less than the one i lugged upstairs in the 70's. It was really heavy, man!
Win £1500 and £2000 towards a cookery school course in Crocktober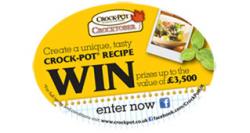 Check out Crock-Pot's page at www.facebook.com/crockpotUk to see how you can submit your own Crock-Pot recipe to a panel of foodie judges looking for creativity, speed of preparation, value for money and taste.
We review a book of Slow Cooker recipes
Cook and Carry Crockpot £44.99 RRP
Two Person Crockpot £19.99 RRP
www.crockpot.co.uk