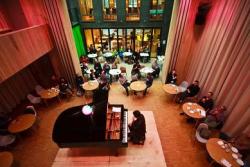 The Forge, 3-7 Delancey Street, London, NW1 7NL
Experts from Coxeter's Fayre will be teaching how to make beautiful, delicious chocolates in a special workshop in Camden this weekend. The Raw Chocolate Making Workshop, starting at 11am will be held in the upstairs restaurant in Caponata (same building as The Forge).
Adults and children aged 10 and over are invited to this three-hour practical workshop, where they will discover the mystery behind creating the delicious treat and learn the surprising health benefits of chocolate when in its purest form. The workshop is designed to take the guilt out of chocolate and showcases the different uses and recipes for this superfood.
As well as being rich in magnesium and antioxidants – which can tackle signs of ageing – raw chocolate is also an anti-depressant and has even been claimed to have aphrodisiac qualities. This workshop will teach you how to make and enjoy delicious chocolate and all its added health benefits as well as provide recipes and plenty of samples to take home.
Tickets are £25 (this includes all ingredients) and doors open at 10:30am. The Workshop runs from 11am-2pm. Younger foodies aged 10-14 can attend for free if sharing the ingredients of a paying adult. (Please note only one child per adult in this case).
For more information and to book log on to www.forgevenue.org/whats-on